The King of meme coins and its killer both are in the 'green' today. Dogecoin (DOGE) and Shiba Inu (SHIB) saw a notable increase today amid a confused market trend since the crypto giants, Bitcoin (BTC) and Ethereum (ETH) were in the red along with several other cryptos. However, Dogecoin and Shiba Inu managed to go in the other direction due to the fact that their weekend gains extended into the week.
What Are Dogecoin And Shiba Inu?
Dogecoin is the first ever meme coin to be launched and is based on the dog-faced theme. The Dogecoin value had earlier skyrocketed from about $0.0002 to $0.75, which many potential investors missed. However, they later realized the true potential of it and began acquiring it before other meme coins even entered the domain and the Dogecoin market cap saw a spurt then.
The leading crypto price-tracking website, CoinMarketCap defines DOGE as a crypto that is:
"Based on the popular "doge" Internet meme and features a Shiba Inu on its logo. The open-source digital currency was created by Billy Markus from Portland, Oregon, and Jackson Palmer from Sydney, Australia, and was forked from Litecoin in December 2013. Dogecoin's creators envisaged it as a fun, light-hearted cryptocurrency that would have greater appeal beyond the core Bitcoin audience since it was based on a dog meme. Tesla CEO Elon Musk posted several tweets on social media that Dogecoin is his favorite coin."
Shiba Inu is referred to as the Doge-Killer by the developers of this token. The crypto was first listed on ShibaSwap, a DEX that was indigenous to the ones who launched this token. The meme coin was introduced in August 2020, where it gained immense popularity and took a step ahead toward its spree to outperform DOGE in every respect. Shiba Inu coin future was estimated to do wonders at that point in time. 
The CoinMarketCap website mentions that the SHIB token:
"Aims to be the Ethereum-based counterpart to Dogecoin's Srypt-based mining algorithm. Shiba Inu and the SHIB token are part of a swarm of dog-themed cryptocurrencies, including Baby Dogecoin (BabyDoge), Dogecoin (DOGE), JINDO INU (JIND), Alaska Inu (LAS), and Alaskan Malamute Token (LASM). These lesser-valued tokens have attracted investors who missed the Dogecoin pump from 0.0002 to nearly 0.75 USD."
DOGE And SHIB Performance Today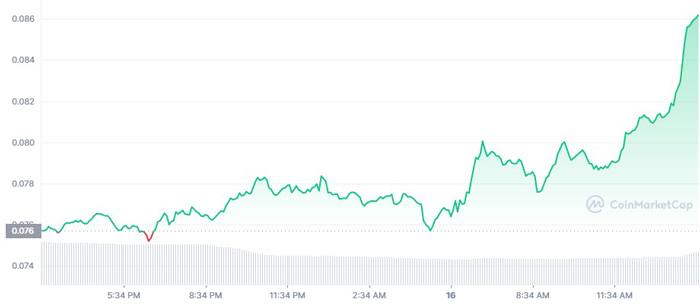 The Dogecoin value was up by 13.35% and traded at $0.08562 at the time of writing on Tuesday, August 16, 2022. The Dogecoin market cap stood at $10.86 billion, up by 7.74%. However, the 24-hour trade volume saw a plunge of 30.17% and was at $1.03 billion. The drop in volume was due to the fact that its demand had grown during the weekend as the volume surpassed $1.5 billion on August 14, 2022. The decline in trade volume was seen in the case of both Dogecoin and Shiba Inu (discussed below).
Shiba Inu coin future expectations can be upscaled seeing its recent performance as it trends at number 1 on CoinMarketCap's trending list. The SHIB token was up by 4.70% and traded at $0.00001632 at the time of reporting on Tuesday, August 16, 2022. The market valuation of the crypto stood at $8.9 billion, up by 3.96%. However, in line with DOGE, the 24-hour trade volume of SHIB tumbled by 60.12% and was at $1.56 billion. Shiba Inu coin prediction at the maximum is set at $0.00005170 by experts in the cryptocurrency industry currently.
As Dogecoin and Shiba Inu gained, BTC and ETH lost 0.15% and 1.09%, respectively.
Latest posts by Linda Lopez
(see all)