If you are on the lookout to invest in an altcoin or a couple of altcoins this year, this read will be particularly useful. Here we will discuss the altcoins that will specifically be experiencing a heavy altcoin surge in the ongoing year. That said, these coins might help you to make up for the loss that you have suffered during the crypto winter.
Top 5 Best Altcoins To  Experience Altcoin Surge This Year 
Before exposing the names of the altcoins and what is causing this altcoin surge, we would like to say something. The coins that are talked about in this piece are suggested by the analysts. These are the forecasts coming directly from the experts. However, since this may include your decision on investment, we would like you to do your own research before you invest in any cryptocurrency. Now, let's begin:
Algorand (ALGO)
Algorand (ALGO) aims to create an open blockchain platform accessible to general people. The native currency of the network, ALGO, is designed to pay the operators while preserving the network. Owing to this unique technology, the Algorand platform is termed as 'self-sustaining'. Since crypto was introduced in the cryptocurrency ecosystem, the coins have seen a heavy influx of users. In contrast to standard PoS, where several coins must be staked at a high cost, ALGO only requires one currency. Currently, ALGOs are $0.2154 each. In total, 7,203,366,480 ALGO supplies are available.
For more related altcoin news, visit https://cryptoventurenews.com/category/cryptocurrency-news/altcoin-news/.
Big Eyes Coin (BIG)
Big Eyes Coin (BIG) is a very new yet quite well-known meme coin having outstanding presales. Cat lovers are committed to assisting one another while sustaining growth and financial benefits in the cat-themed cryptocurrency community. This cryptocurrency concept will advance the world of meme coins by making use of the benefits from other sectors. 
In addition, this new crypto token will also benefit from the marketing whack of the meme coin, the popularity of its Non-fungible Tokens or NFTs, and the various pros of Decentralized Finance (DeFi). Users will have the opportunity to develop and create money with these characteristics combined. A key goal of Big Eyes is to increase the use of DeFi by improving user accessibility and integrating money into the ecosystem. Keep an eye on this meme coin for an altcoin surge.
Binance Coin (BNB)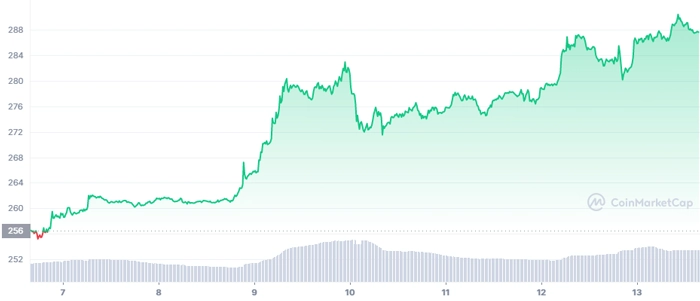 You might be very much associated with Binance Coin (BNB). This is the exclusive cryptocurrency from the house of Binance, one of the top cryptocurrency exchanges. BNB was completely an ERC-20 standard crypto when it was first established. However, currently, it runs on its own blockchain network, Binance Chain.
During the cryptocurrency season, BNB is a popular investment choice. During this time, Binance had produced a maximum of 200 million BNB coins. That said, it is a fact that Binance frequently burns BNB coins from the circulating supply. This states that cryptocurrency is deflationary. With the help of the crypto coin, users can pay platform transaction costs and also facilitate exchange operations. Considering the crypto price today, BNB is priced at $287.82 per (BNB/USD), possessing a market cap of $46.32 Billion. The 24-hour transaction volume is $623,980,006.
Filecoin (FIL)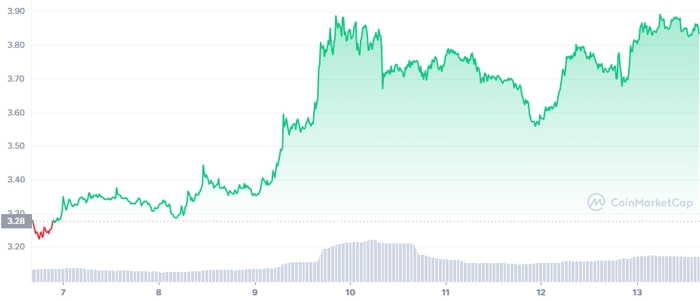 A decentralized open-source platform, Filecoin (FIL), is gaining a lot of attention. Consumer data is what it intends to store. The native token, FIL, facilitates transactions. It is imperative that contributors have sufficient storage space to store all necessary data in the digital age. Cloud storage is built into the platform, allowing developers to join and save data in the cloud.
As long as the market remains favorable, Filecoin (FIL) has continued to be active and will experience an altcoin surge. The most recent data shows that it has increased by 2.78% over the last 24 hours. According to its weekly performance, this coin has grown by 3.29%. FIL is now priced at $3.85.
Polkadot (DOT)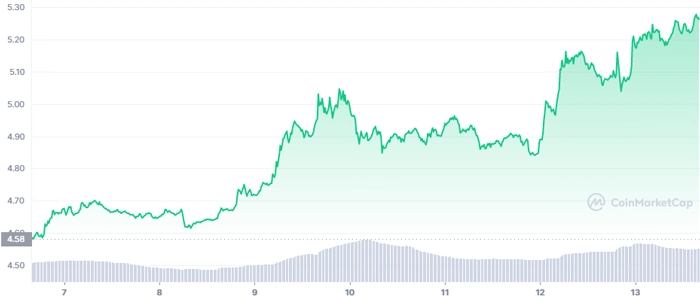 If you are interested in investing now in the altcoin season in 2023, Polkadot (DOT) is a good choice. A DOT-powered ecosystem allows blockchains and other innovations to be developed. As the name suggests, the network is capable of establishing communication between disparate blockchains. These customized blockchains are called "Parachains". Polkadot has been built with the community in mind and is future-proof. No network forking, on-chain planning, and independent implementation characterize network updates. DOT will definitely see an altcoin surge.
With a 24-hour trading volume of $193,868,397 USD, Polkadot is trading at $5.27 USD today. In the last 24 hours, Polkadot is up 3.65%. The market cap of DOT is $6,085,482,937 USD. There are 1,155,153,983 DOT coins in circulation.
Here we come to the end of one of the important reads for this year about the altcoin surge. But, we have a small disclaimer to put out over here. Although the predictions are coming directly from the crypto experts, you need to do your own research before investing in any digital assets. Since investments are subjected to market risks, it is your priority to do in-depth research. Additionally, we would like to mention that all the values given here are at the time of writing.
Latest posts by Linda Lopez
(see all)