The ones who are searching for the latest crypto news today will surely be amazed by this update. There is a huge profit opportunity for crypto day traders from one of the lesser-known digital currencies. Moreover, it is another 'red' and volatile trading day for the crypto market today making this development even more significant.
Which Coin Did We Feature In The Crypto News Today Article?
If you are wondering which crypto we are talking about then let's break the silence on it. We have been talking about 3DCoin (3DC), which is a coin that supports masternode (we have mentioned the relevant details on 3DCoin masternode below).
The 3DCoin CoinMarketCap page defines the crypto as one that:
"Aims to feature instant transactions, an eco-friendly mining system, and advanced scripting to automate business management."
The crypto is the home project of the 3DCoin blockchain and currently has 70,188,119.93 3DC tokens in circulation. The 3DCoin masternode requires one to hold 25,000 such tokens.
The 3DC crypto gained immense value in just a few hours today. Moreover, it had been surging on Sunday as well when many of its supporters predicted that it was going to perform big shortly and it did. Let's know further about its performance today.
3DCoin Price Today
According to data from the 3DCoin CoinMarketCap page, the token skyrocketed by a whopping 438.16% and traded at $0.001842 at the time of writing on Monday, August 22, 2022. The market capitalization of the token stood at $129,308, up by 438.13%. In addition, the 24-hour trade volume for the crypto surged by a huge 5552.68% and was recorded at $6.12 million. Moreover, the coin gained the third spot in the trending section of CoinMarketCap.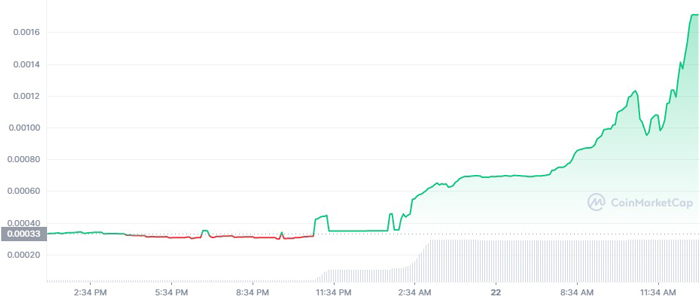 The day's high was recorded at $0.001848, which shows that it killed a 'zero' from Sunday's close of $0.000691. The 3DCoin price surge has been taking place for three consecutive days now. However, crypto enthusiasts think that it is going to follow a pump and dump scheme and that it should not be considered as a long-term crypto investment. But it still holds a place on the list of latest crypto news today owing to its huge price movement.
Latest posts by Linda Lopez
(see all)