The price of ETH increased by 0.5% over the previous twenty-four hours, according to Ethereum news. The cryptocurrency market recovered some of its recent losses as a result, and ETH's price increased to $1,642. Currently, the price equals a gain of 4.5% in the last week and a surge of 30% in the past 30 days. With this, the altcoin has almost kept up with the increase in the Bitcoin price in the last month. 
Visa announced yesterday that it is testing stablecoin payments on the Ethereum blockchain, giving Ethereum the kind of adoption news that Bitcoin (BTC) supporters may only be able to dream of. This type of announcement indicates just how dominant Ethereum could become in the future given that it is already by a significant margin the largest layer-one network.
Ethereum News: Here Is Where It Is Going Next
The current state of ETH's chart is delicate. Its 30-day moving average (red) began rising above its 200-day average (blue) earlier in the month and may continue rising for several more days or weeks, implying further gains.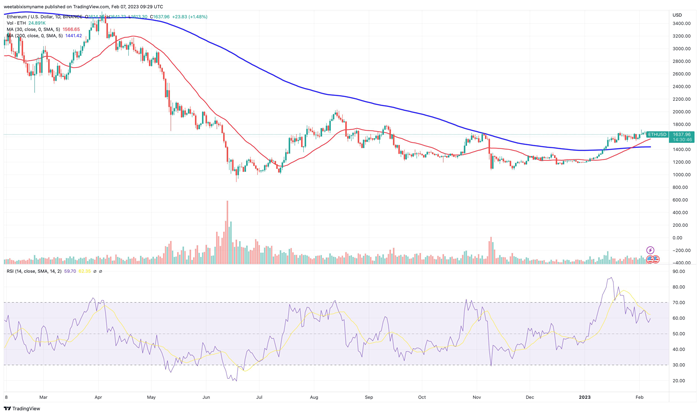 The position of ETH's 30-day average, however, might represent the apex of its recent rally given that the global economy and markets haven't fully recovered since the downturn in 2022. This anxiety is confirmed by the coin's relative strength index (purple), which has dropped to around 60 after peaking above 85 in the middle of January.
To stay updated with the latest news on Ethereum, visit https://cryptoventurenews.com/category/cryptocurrency-news/ethereum-news/. 
Here, $1,700 is the crucial resistance level to be aware of. ETH tried to reach this peak at the beginning of February but fell back to about $1,620 in the days that followed. If it can reach this peak and hold it, it will almost certainly continue to rise.
On a fundamental level, Ethereum has a lot to look forward to, as was already mentioned in the Ethereum news. Most recently, payment juggernaut Visa revealed yesterday that it is testing USDC stablecoin payments on the Ethereum blockchain.
Visa has been testing how to do large settlements using $usdc on #ethereum. #crypto is going to be an everyday part of everyone's lives soon. Get ready.

— Lark Davis (@TheCryptoLark) February 6, 2023
This is extremely bullish for Ethereum and suggests that its network will see significant additional use in the months and years to come. The Merge, according to research published by the company in mid-January, "paved the way for Ethereum to become a more scalable platform in the future." In fact, Visa has boosted the layer-one network before.
At @Visa, we are excited to share our latest research piece, where we delve into the specifics of "The Merge", its potential ramifications for the blockchain trilemma, and the upcoming blockchain upgrades that we are closely monitoring. pic.twitter.com/kL3IZepD4R

— Mustafa (@digitalmustafa) January 18, 2023
With companies like Visa supporting Ethereum, the argument that it will only solidify its hegemonic position in the years to come seems plausible. Indeed, according to analysts, ETH itself will be among the biggest winners this year. Bloomberg's Mike McGlone predicted this in a tweet in December.
Bitcoin crosses series; Ethereum may be top candidate to continue outperforming the first born crypto -#Ethereum's advances vs. #Bitcoin have been unshaken by 2022 deflation in most risk assets and may be gaining underpinnings. pic.twitter.com/mLRMO4vpQr

— Mike McGlone (@mikemcglone11) December 20, 2022
The Merge of last September set Ethereum on the path to increasing its scalability and efficiency, and now that it has switched to proof-of-stake (among other upgrades), it is more prone to deflation. In times of increased network activity, the Velvet Capital network burns more ETH than it issues, as shown in the tweet below and discussed in various Ethereum news.
#Ethereum becomes deflationary when the token's burn rate (from transaction fees) is greater than the staking reward for validators

PoS ETH has only existed for a few months

In the next bull run, ETH may become even more deflationary with more people using Crypto regularly pic.twitter.com/Edpq0jrZR7

— Velvet.Capital (@Velvet_Capital) December 21, 2022
With about 59.4% of the entire DeFi market, Ethereum is already the layer-one blockchain with the largest amount of value locked in. Given that the Merge creates the groundwork for sharding and additional scalability improvements in addition to Ethereum's significant network effects, this will only get worse in the future.
Consequently, ETH has a good chance of breaking through a number of significant levels this year, starting with the aforementioned $1,700 resistance level and continuing on to $2,000 and beyond.  Although there is no assurance that 2023 will see a full-fledged bull market (as opposed to a modest recovery), a return to more optimistic crypto market conditions could see ETH return to $3,000 and beyond, as per the latest Ethereum news.
This concludes our discussion on the latest Ethereum news today. Thanks for reading this article. Having the opportunity to share this with you was a pleasure. If you have any comments on this, we would appreciate hearing from you. You can request an article from us by contacting — [email protected] or leaving your request in the comment section below.
You can read more about the latest Ethereum news from the Ethereum News Section under the Cryptocurrency News category. Get in touch with us via Facebook, Twitter, Instagram, Telegram, or the Official Website of Crypto Venture News.

Latest posts by Juan Castro
(see all)