Approximately 8 hours ago, Santiment, a crypto intelligence firm, reported the largest Bitcoin transaction in 4 weeks. The whale address suddenly had 13,369 bitcoins after holding none previously, according to the tweet. According to current prices, this would be worth about $313.1 million.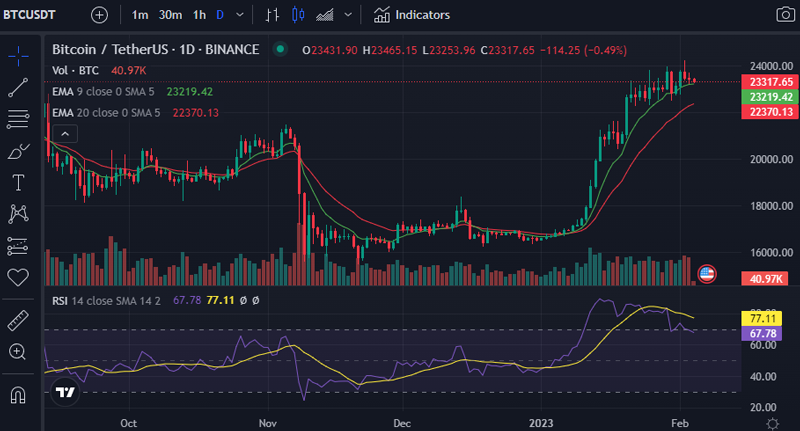 Having traded predominantly sell volume for the past two days, the crypto market leader's price has retraced to the 9-day EMA. Despite momentum being bullish, BTC's price is still above its 20-day EMA line, where the 9-day EMA line is positioned. It is likely that this bullishness will be exhausted in the coming 24 to 48 hours if the daily RSI indicator is any indication following the latest bitcoin transaction.
There is a negative slope towards oversold territory on the daily RSI line at present. Additionally, the daily RSI line is placed below the daily RSI SMA line.
It is important for crypto traders to pay attention to the 9-day EMA if BTC's price drops in the next 24-48 hours. In the event that Bitcoin's price breaches this level, the next target is $22,840, which will be immediate support. At around $22,350, the 20-day exponential moving average will be the last defense against a Bitcoin selloff.
Our discussion for today has come to an end. We appreciate you taking the time to read it all the way through. This was a pleasure to share with you. We would appreciate hearing your thoughts on this. You can request an article from us by contacting — [email protected] or leaving your request in the comment section below.
You can read more articles about the latest news on Bitcoin in the Bitcoin News section under the Cryptocurrency News category. Get in touch with us via Facebook, Twitter, Instagram, Telegram, or the Official Website of Crypto Venture News.

Latest posts by Ozioma Sani
(see all)