It seems that the Dogecoin (DOGE) and Shiba Inu (SHIB) rivalry is not ending soon. The latest meme coin news about them suggests that the Kind of Meme Coins, DOGE, survived the recent crypto crash sessions and bearish trends. However, on the other hand, the second-largest meme-frenzy token, SHIB, succumbed to the extreme market conditions. This is because of the fact that the weekly gains for Dogecoin were in the 'green' while the other saw a 'red' performance.
Latest Meme Coin News
The meme coin news being discussed here in any way does not suggest that Dogecoin value did not suffer due to the crypto meltdown. However, the entire focal point is that Shiba Inu extended into losses while its rival, DOGE, was in profits.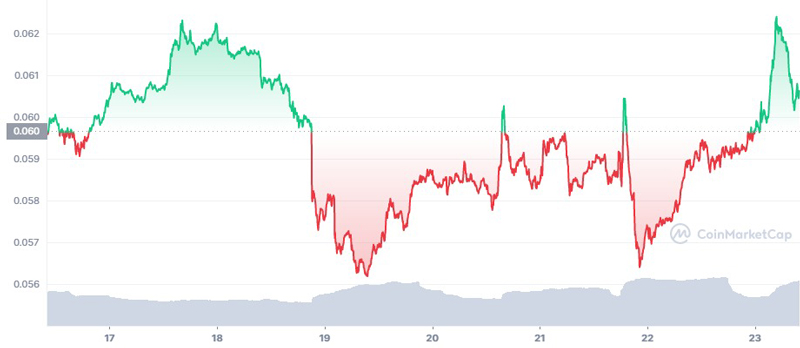 According to CoinMarketCap, the Dogecoin value was up by 3.12% and traded at $0.06065 at the time of writing on Friday, September 23, 2022. The Dogecoin market cap stood at $8.02 billion, up by 3.12%. However, the 24-hour trade volume was slightly down by 2.58% and was at $379.84 million. The day's high was recorded at $0.06245 and the 7-day gains of the coin stood at 1.37% despite crypto crash sessions. The 7-day chart shows how Dogecoin had slumped earlier but recovered.
The Shiba Inu coin future expectations can be downscaled seeing its recent performance as it lost immense value during the week's bearish sessions. However, the SHIB token was up by 0.20% and traded at $0.0000085 at the time of reporting on Friday, September 23, 2022. The market valuation of this crypto stood at $5.9 billion, up by 0.36%.
But its 24-hour trade volume plunged more than that of DOGE and it was down by 28.89% as it was recorded at $244.68 million. Further, the 7-day chart provided shows how after an initial gain the SHIB token extended into losses and lost 7.28% in the week.
Latest posts by Linda Lopez
(see all)