Well, the crypto market is plunging again and it seems that the situation is not going to get any better in the coming days. However, Quant crypto has surely defied the trend. The domain does recover at intervals but that is just not enough as it drops massively after a few hours. Yesterday, the market was in the 'green' but today it slumped again. But one thing to be noted is that Quant crypto has not been gaining just today but in the past month that too during repeated crypto crash sessions.
What Is Quant (QNT)?
The Quant CoinMarketCap page defines QNT as crypto that was:
"Launched in June 2018 with the goal of connecting blockchains and networks on a global scale, without reducing the efficiency and interoperability of the network. It is the first project to solve the interoperability problem through the creation of the first blockchain operating system.

The project is built as an operating system distributed ledger technology— and Overledger Network — for connecting different blockchain networks. The project is billed as the first OS to be built for blockchains.

The main aim of Quant — using Overledger — is to bridge the gap that exists between different blockchains. The backbone of the project is the Overledger network, which Quant bills as the ecosystem on which the future digital economy ecosystem will be built."
Latest Quant Crypto News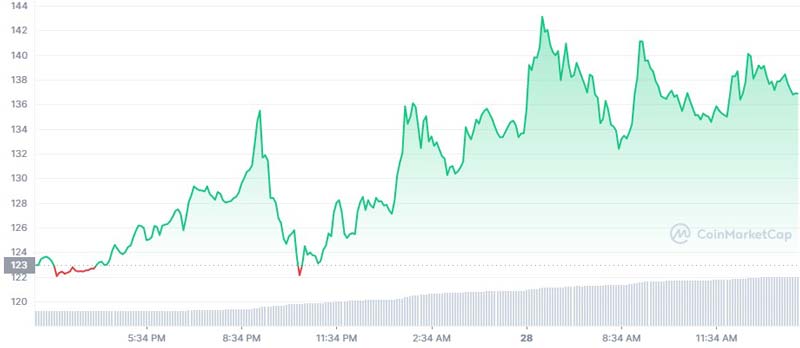 The latest Quant crypto news is focused on the fact that the QNT token has been gaining even when crypto giants like Bitcoin (BTC) and Ethereum (ETH) have dropped by over 7%. The Quant crypto price was up by 10.81% and it traded at $136.86 at the time of writing on Wednesday, September 28, 2022. The market capitalization of the token stood at $1.65 billion, up by 10.84%. In addition, the 27-hour trade volume for the crypto also surged by a huge 254.11% to 218.14 million.
According to the Quant CoinMarketCap page, the day's high was $143.26, which shows that the coin had gained much more than the reported value but then might have been affected by the downward trend in the market. However, it did not succumb to the extreme market conditions and not only managed to survive but also gained significant value. The day's peak was also the month's high, a point that is worth noting. Moreover, the crypto has gained over 45% from its 1-month ago price of $95.91. After its bullish rally, the Quant crypto price prediction rating was revised and upscaled to $216.10 by the end of 2022.
Latest posts by Linda Lopez
(see all)