Terra Classic (LUNC), the rebranded version of Terra (LUNA) that crashed earlier this year, has been surging today. Not only is it notable because of the magnitude of gain but also due to the fact the crypto market is bleeding today. In addition, this is the second day in a row that the market is performing in this manner. This is why it is extremely important to note even the slightest gains in the sector and LUNC managed to increase by over 35%, which is definitely commendable looking at the current market conditions. Let's first know why and how LUNA was revived.
UST And USTC
The Terra Classic CoinMarketCap page talks about how the creator of Terra Luna, Do Kwon, decided to revive the dead crypto by rebranding it and dividing the Terra blockchain into two. The statement mentioned on the page reads that:
"After the UST depeg, Do Kwon proposed a revival plan that would split the Terra blockchain into a new chain called Terra (also sometimes called Terra 2.0). The old Terra chain would continue to exist as Terra Classic. This revival plan passed a community vote, and most of the DeFi DApps subsequently migrated to the new Terra 2.0 chain.

Terra Classic (LUNC) is the first native token of the Terra blockchain released in August 2018. LUNC existed before the launch of the new chain — now branded Terra (LUNA) — and works with the original code of the Terra ecosystem.

The main function that the native token performed was to absorb the price deviation of the algorithmic stablecoin — UST. The price of the UST stablecoin was pegged to the US dollar by minting and burning UST tokens to balance the supply and demand of the coin. In May 2022, UST lost its peg and collapsed. The UST stablecoin algorithm created trillions of LUNA tokens, fell into a hyperinflationary spiral, and reduced the value of the original LUNA token by 99%."
Terra Classic Price Today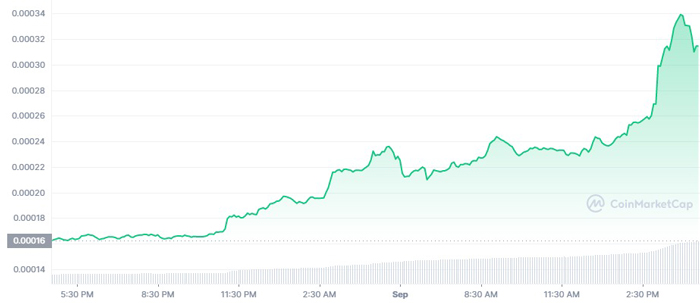 The Terra Classic CoinMarketCap page showed that the LUNC crypto was up by 57.61% and traded at $0.0002435 at the time of writing on Thursday, September 1, 2022. The market cap of the token stood at $1.6 billion, up by 57.62%. In addition to the surge, the 24-hour trade volume of the crypto skyrocketed by 211.90% to $1.07 billion. The day's high was recorded at $0.0002447, which was also the month-high for LUNC. The Terra Classic price prediction analysis has been observed to be decent. The Terra Classic price prediction rating suggests that it is set to reach a price of $0.000228 by 2023.
Latest posts by Linda Lopez
(see all)