TRON (TRX) or Tronix, the native token of the decentralized blockchain network, Tron, had been gaining with the 'green' market trends lately. However, today's crypto crash session has made it totally confusing whether to buy TRON or not. It has been considered as one of the stable options in the crypto market. Moreover, the technical indicators and metrics have also provided a fairly mixed response. Therefore, we have curated some relevant data on it to ease the task of crypto investments in such a bearish trend.
TRON (TRX) Performance
The TRX token price had dipped by 2.77% and traded at $0.06733 at the time of writing on Thursday, July 21, 2022. The market capitalization of the TRON coin stood at $16.22 billion, down by 2.77%. Moreover, another downside was that the 24-hour trade volume of the TRX crypto, which slid by 9.70% to $601.2 million.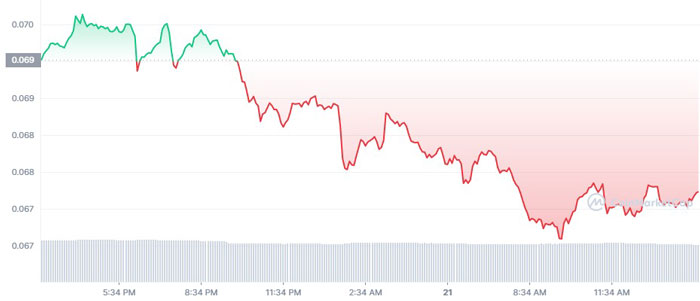 The crypto has managed to survive the crypto crash by not losing much value while others lost over 10%. Also, one notable point is that while major cryptocurrencies declined in value compared to their 1-year ago figure, TRON managed to gain significant value. Others did succumb to repeated crash sessions since December 2021, while TRX is up by about 22% from its year-ago price of $0.55.
Technical Metrics
The  Summary provided by TradingView indicates that the TRON crypto is a 'hold' currently with 9 indicators suggesting a buy, 7 indicating that it's a 'hold' (neutral),  and 10 pointing toward a 'sell' action. The Moving Averages data, however, suggests that TRON is a sell today with 9 indicators supporting that. The 50-day Exponential Moving Average (EMA) stood at 0.00000300, indicating an action of sell. In addition, the 50-day Simple Moving Average was at 0.00000304, suggesting the same. However, the current TRX price is fairly above these moving average metrics, therefore, the price trend is upwards.
However, due to the sustenance of the token through the frequent price fluctuations and recent crash sessions, the oscillator metrics provided by the site indicate that TRON is a buy currently. According to the statistics, 4 out of 10 indicators count for buy investment action, 6 for hold (neutral), and just 1 for sell. The Relative Strength Index was at 38.74, indicating that no trading actions should be undertaken. However, the Commodity Channel Index was at -198.85, pointing to a 'buy'.
All these three metrics of oscillators, moving averages, and summary draw different conclusions today. Therefore, it is fairly difficult to ascertain whether TRON (TRX) is a buy, sell, or hold currently. So, be very cautious and check the market trends before conducting any trading activities. Also, it is advised to stick with the summary and stay away from the crypto market's gamble during such a bearish session.
Latest posts by Linda Lopez
(see all)