The crypto market is again in the 'red', which is nothing new. But one thing to note is that the UNUS SED LEO (LEO) crypto has been gaining during a bearish session. In addition, the LEO crypto even achieved its 1-month peak on the same day, we will surely discuss the details. But before that, the ones who do not know what this crypto is all about should be addressed first.
What Is UNUS SED LEO?
The UNUS SED LEO CoinMarketCap page defines it as:
"A utility token that's used across the iFinex ecosystem. The unusual name is based on a Latin citation from one of Aesop's fables. The cryptocurrency allows Bitfinex users to save money on trading fees. The extent of the discount depends on how much LEO that the customer has in their account — and the savings on offer are spread across three tiers. There are fluctuations depending on whether a trading pair is crypto-to-crypto or crypto-to-stablecoin. Launched in May 2019 — and unlike many other cryptocurrencies out there, it is not designed to exist forever."
The page also talks about the lost recovery motive of iFinex stating:
"To make good the money lost, iFinex unveiled plans to gradually buy back the token from investors until none are left circulating in the marketplace. A transparency initiative was also launched so the crypto community could monitor the initiative's progress, and ensure it was meeting stated targets."
UNUS SED LEO Price Today
According to data from the UNUS SED LEO CoinMarketCap page, the LEO crypto price was up by 4.46% and it traded at $5.51 at the time of writing on Wednesday, August 31, 2022. The market valuation of the token stood at $5.2 billion, gaining by 4.48%. In addition, the 24-hour trade volume was slightly up by 1.57% to $3.41 million. The increase defied the prevalent 'red' trend today.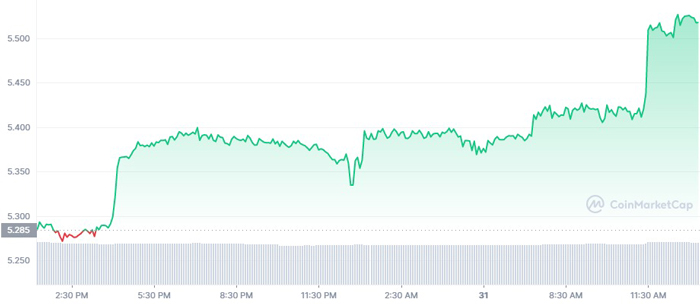 The crypto also attained its 1-month high of $5.53. However, it still was down by about 31% from its 1-year high of $8.04. But yes, the coin's gain on a 'red' day was surely commendable. Moreover, if you are looking for where to buy UNUS SED LEO, consider crypto exchanges like FTX, OKX, Gate.io, Hotcoin Global, and DigiFinex.
Latest posts by Linda Lopez
(see all)