XRP is one of the most controversial digital currencies in the world due to the SEC vs. Ripple lawsuit. This is why the XRP price could not use its entire potential to gain manifold. The crypto market is volatile today, which might be a reason that XRP did not register gains. Moreover, it was in the 'red' when we spotted it. However, the latest XRP news suggests that this crypto has gained over 16% in the past seven days.
What Is XRP Crypto?
The XRP CoinMarketCap page defines it as:
"An open-source, permissionless and decentralized technology launched in 2021. Benefits of the XRP Ledger include its low-cost ($0.0002 to transact), speed (settling transactions in 3-5 seconds), scalability (1,500 transactions per second) and inherently green attributes (carbon-neutral and energy-efficient). The XRP Ledger also features the first decentralized exchange (DEX) and custom tokenization capabilities built into the protocol. Since 2012, the XRP Ledger has been operating reliably, having closed 70 million ledgers.

The XRP Ledger presents a wide variety of applications and use cases related to payments including micropayments, DeFi, and soon, NFTs. Deployed in 2012, the XRPL supports enterprises and Python, Java and JavaScript developers with powerful utility and flexibility. On the XRP website, developers can access different tutorials to help them get started using different coding languages, building apps, managing accounts and more."
XRP Price Today
According to the data from the XRP CoinMarketCap page, the crypto was down slightly by 0.46% and traded at $0.5145 at the time of writing on Monday, October 10, 2022. The market capitalization of this virtual currency stood at $25.64, down by 0.55%. However, the 24-hour trade volume surged by a huge 49.42% and was at $2.1 billion.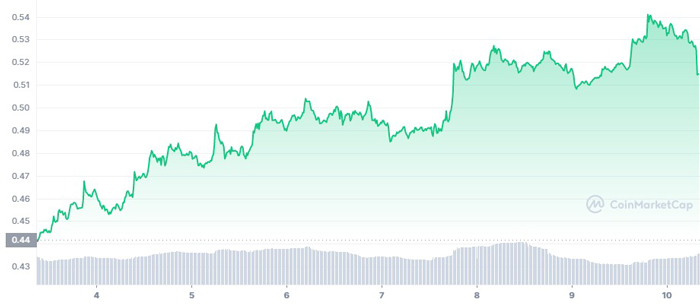 The day's high was $0.5414 but the crypto extended much lower to that and recorded a low of $0.5141. But yes, one notable thing was that it gained 16.86% in the last seven days even after the market was hit by several bearish sessions. The XRP lawsuit was one of the main reasons for this gain. The parent company of XRP, Ripple Labs, recently made significant progress in the SEC vs. Ripple lawsuit, which led to such hikes in the XRP price.
Latest posts by Linda Lopez
(see all)