It is not more than just two months that the FTX, one of the top cryptocurrency exchanges, has gone through collapse after filing Chapter 11. This took a toll on the entire cryptocurrency market. Following this, the latest crypto news states that Binance loses money worth $12 billion. Although back in November, 2022, the top crypto exchange had seen a substantial boost of 30% in the trading activity that same month.
Binance Loses Money: $12 Billion Crypto Withdrawn In Just 60 Days
Investors have been withdrawing crypto in recent weeks due to the collapse of rival FTX, and despite Changpeng Zhao's assurances that things had 'stabilized', outflows continue to rise. Binance has witnessed gigantic withdrawals of $12 billion in crypto withdrawals in just less than 60 days, mentioned Forbes. Crypto data firm Defillama reported that customers withdrew $360 million last Friday.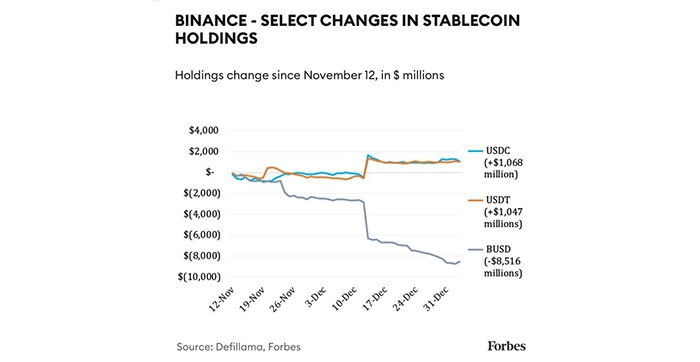 The Roller Coaster Involving Binance And FTX
Following the FTX collapse in early November last year, Binance experienced a substantial boost of 30% in the trading activity in the same month. That said, it is necessary to remember that the catalyst for the FTX collapse had been the Chief Executive Officer Changpeng Zhao "CZ" Binance's announcement on the 6th of November 2022. It mentioned that the cryptocurrency exchange has been selling its holdings of FTT, the native token of FTX. This is only because FTT was too risky. FTX had also operated the second-largest spot as well as derivatives exchanges.
It had been widely speculated in the crypto market that Binance would soon acquire FTX, but Binance walked away from the deal citing FTX's finances. To read related crypto coins exchange news, make sure to check out https://cryptoventurenews.com/category/cryptocurrency-news/coin-exchange/. 
On the 13th of December 2022, a separate crypto data firm, Nansen, announced that Binance had lost $3 billion of assets over the past week. This represented 4% of the firm's total assets. As a result of a Forbes investigation, Binance has lost 15% of its assets since a Twitter post by Zhao (also known as CZ) downplaying the Nansen withdrawals. Despite this, nearly a quarter of Binance's assets have left the exchange since the start of the year. As of publication time, Forbes has not heard back from Binance regarding this story.
The performance of Binance Coin (BNB) and Binance USD (BUSD), the two tokens bearing the exchange's name, illustrates investors' lack of trust. According to Forbes, BNB has lost 29% of its value over the past two months, leaving about 29 million tokens on Binance, 51% less than the exchange disclosed on the 10th of November 2022. In the meantime, 40% fewer BUSD stablecoins were available at the firm.
It seems Binance is also losing influence and trust in more subtle ways. Despite a drop of 24% in net assets since November, investors in well-known tokens such as MATIC, APE, and GALA reduced their holdings by 40-50%.
Effect Of Crypto Market Collapse On Binance
Binance is not immune to the nearly year long decline in digital assets, although it remains the largest cryptocurrency exchange by volume. Forbes estimates that the exchange lost about $3 billion in revenue after it stopped charging fees for spot bitcoin trading as the market faltered and its BNB token is down almost 37% from a year ago.
Over the past year, the overall value of cryptocurrencies has dropped 56% to $848.7 billion, according to CoinMarketCap data. In November, Binance CEO CZ announced on Twitter that he planned to sell his holdings of FTX tokens from the rival exchange. Based on recent revelations, it was worth around $580 million then.
Following that, the company withdrew its rescue offer, claiming FTX's issues are beyond its control or ability to help, suggesting the company's books show a more serious situation than previously thought. It remains to be seen whether the biggest crypto exchange can hold onto its assets in the face of large-scale withdrawals, or if it turns out to be another crypto exchange that collapsed after FTX, since the crypto market has already suffered trillions of dollars in lost market value.
Thank you for taking the time to read until the end. It was our pleasure to share this with you. We would appreciate any comments you may have on this. If you want us to write an article for you please feel free to reach out at — [email protected] or leave your request in the comment below.
You can read more latest crypto coins exchange news in the Coin Exchange section under the Cryptocurrency News category. Get in touch with us via Facebook, Twitter, Instagram, Telegram, or the Official Website of Crypto Venture News.

Latest posts by Adam Fontaine
(see all)