In December 2021, the crypto winter had set in and seemed like a never-ending phenomenon. This was due to the fact that all cryptocurrencies tumbled hard during that time. The crypto giants, Bitcoin (BTC) and Ethereum (ETH), lost over 50% of their value during such downward trends. In addition, after the Russia-Ukraine war, the cryptocurrency market plunged heavily. The situation appeared to be in control as the digital currencies started rebounding towards mid-2022.
However, complete recovery might take several 'green' sessions or a massive surge in a short period of time. Bitcoin, the largest cryptocurrency, recently recorded its best month of 2022, July. The BTC token increased over 27% in the month and was locked at a price of over $23,000. The token earlier surged after the U.S. Federal Reserve announced that it aims to slow down the pace of interest hikes.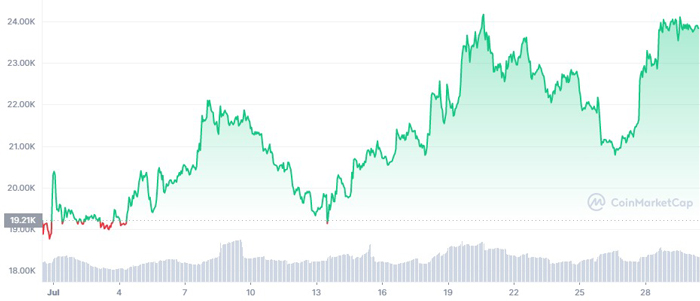 As far as crypto winter is concerned, even Binance CEO Changpeng Zhao commented on the same saying he has a bullish outlook on the crypto market performance in the future. In addition, he also anticipated Bitcoin Adoption to increase as he remarked:
"The macroeconomic situation, there's going to be high inflation, the talk about recession, etc. All of those things drive adoption into bitcoin… into crypto."
However, a crypto spring is still far since the cryptocurrencies have not been able to recover the majority of their losses. At the time of writing, the Bitcoin price stood at $23,324.40, down by 1.80%. This price represents a huge 66% decline from its all-time high of $69,044. Moreover, the "fear and greed" index, which is used for understanding and mapping the market sentiments, is still indicating a fear of a downtrend even after the market has been rebounding after the ultimate lows. Therefore, this indicator still suggests that the crypto winter might extend and a crypto spring is yet to come.

Latest posts by Ozioma Sani
(see all)