Polkadot (DOT), a decentralized cryptocurrency, saw a gain in today's bearish session. Generally, it is difficult to defy the market trends but Polkadot price gains prove otherwise. The red crypto market is considered a market pull-back since the domain gained substantially in recent days. The crypto saw an increase in value after Web3 Foundation, the organization accountable for granting projects on the Polkadot blockchain, passed 400 projects. It had earlier received hundreds of such projects out of which it granted a go-ahead for approximately 40% of those applications.
The Web3 Foundation recently revealed that it had received 1,054 project applications out of which it passed 415. The potential of each project varies considerably and encompasses the entire web3 ecosystem. The organization also said that about 181 teams had completed at least one task and about 300 successfully achieved their milestone. They are celebrating their achievements and expect their team to work on:
"A wide range of decentralized use cases, including digital identity and privacy, IoT, games, data storage, and finance."
Polkadot Price Today
Polkadot price today was at $8.73 as it traded 6.83% above its value 24 hours ago. The market capitalization of the DOT crypto stood at $8.6 billion, up by 6.75%. In addition, the 24-hour trade volume surged by 32.82% to $984.88 million. This figure is the highest after June 15, 2022, recorded 24-hour volume of over $1 billion.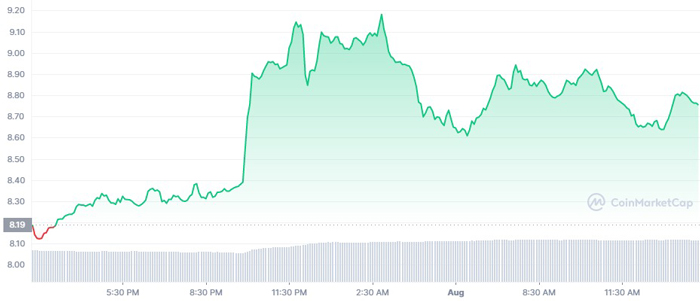 The DOT crypto reached its 1-month high today after peaking at $9.19. This was the first time it crossed the $9 mark after June 10, 2022. The day's low was recorded at $8.11, representing a decline of 11% from its peak. The Polkadot gains outperformed many other crypto participants that tumbled in today's bearish session, even the crypto behemoths could not resist it.
Latest posts by Linda Lopez
(see all)