Chain crypto (XCN) has been witnessing a substantial gain in the market trading session today. Crypto behemoths Bitcoin (BTC) and Ethereum (ETH) saw just a mere rise whereas a number of other small cryptocurrencies were surging. Out of Chain and Dogecoin (DOGE), the largest meme coin, recorded the highest gain. Though DOGE has been gaining in value for days now, Chain gave good competition to it.
What Is Chain (XCN)?
The Chain CoinMarketCap page notes that it is:
"A cloud blockchain infrastructure that enables organizations to build better financial services from the ground up. Chain has launched Chain Core which is a permissioned and open-source blockchain and Sequence, its ledger as a service product. Clients can receive discounts and pay for commercial fees with Chain Tokens (CHN) as well as participate in community protocol governance and access to premium features.

Using Chain Core, institutions can launch and operate a blockchain network, or connect to a growing list of other networks that are transforming how assets move around the world. The Chain Protocol defines how assets are issued, transferred, and controlled on a blockchain network. It allows a single entity or a group of organizations to operate a network, supports the coexistence of multiple types of assets, and is interoperable with other independent networks. Chain Core is engineered for the performance demanded by modern financial systems. The time to create, sign, and validate a transaction is measured in milliseconds."
Chain Crypto Price Today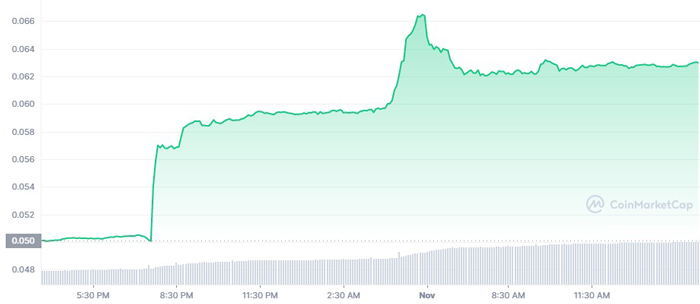 The Chain crypto price today was $0.06291 as it was up by 25.28% at the time of writing on Tuesday, November 1, 2022. The market capitalization of the XCN token was $1.35 billion, up by 25.47%. Moreover, the 24-hour trade volume for the crypto had skyrocketed by a huge 235.95% as it stood at $43.27 million. According to the Chain CoinMarketCap page, the day's high was recorded at $0.06653. Earlier, the Chain crypto lost considerable value in the last seven days before recovering today.
Dogecoin Price Today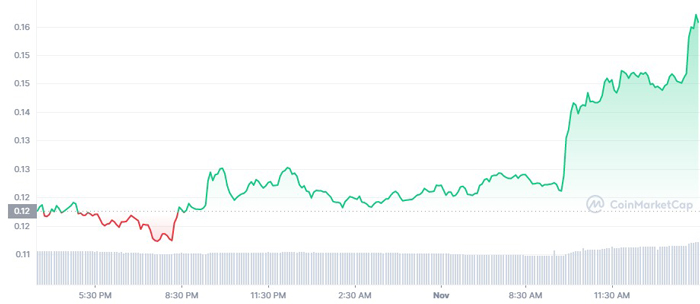 According to CoinMarketCap, the Dogecoin price had surged by 26.48% and traded at $0.1549 at the time of writing on Tuesday, November 1, 2022. The Dogecoin market cap stood at $20.53 billion, up by 27.03%. Further, the 24-hour trade volume gained by 29.96% and was at $7.9 billion. The day's peak was recorded at $0.1572 and the 7-day gains of the coin stood at a massive 159.75% despite crypto crash sessions. Further, the 7-day chart shows how Dogecoin had been gaining all this while.
Latest posts by Linda Lopez
(see all)