The crypto market is experiencing a volatile session today. Amid such a situation we aim to bring a Chiliz crypto news update that is a relief for not just CHZ investors and supporters but the entire market. Chiliz (CHZ) is one of the digital currencies that is a part of the Top 100 list on the leading crypto-price tracking website, CoinMarketCap.
What Is Chiliz Crypto?
The Chiliz CoinMarketCap page defines it as:
"The leading digital currency for sports and entertainment by the eponymous Malta-based FinTech provider. It operates the blockchain-based sports entertainment platform Socios, which enables users to participate in the governance of their favorite sports brands. Multiple fan tokens by Socios.com are an example of that. For sports clubs and associations, fan tokens offer a way of connecting with their fans and unlocking new revenue streams.

For instance, fans can participate and influence club-related decisions through surveys and polls, such as messages the captain should wear on his armband. The company aims to bridge the gap between being an active and a passive fan. Chiliz has developed partnerships with some of the biggest sporting institutions in the world: FC Barcelona, Manchester City, Juventus Turin, and Paris Saint-Germain. It also boasts partnerships with the UFC and gaming organizations. By purchasing CHZ, fans get access to various fan tokens and literally have a stake in their club."
Chiliz Crypto News Today
According to data from the Chiliz CoinMarketCap page, the CHZ crypto was up by 8.39% and traded at $0.2461 at the time of reporting on Tuesday, September 20, 2022. The market capitalization of the token stood at $1.47 billion, up by 8.43%. However, the only downside was that the 24-hour trade volume for CHZ declined by 9.42% and was at $812.86 million. The Chiliz crypto price prediction 2030 rating is pinned at $3.628.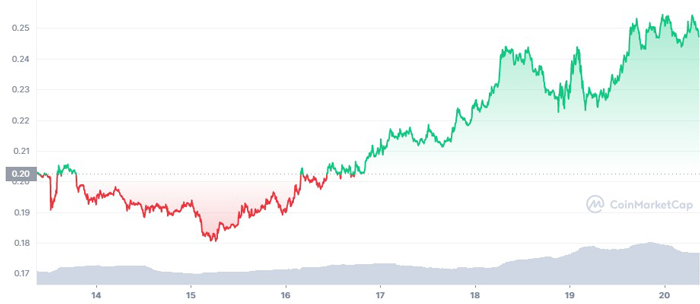 The day's high was recorded at $0.2546, which was considerably lesser than the 1-month peak of $0.2636. But the notable instance was that it had the highest weekly gain on the list of top 100 cryptocurrencies by market cap. Several digital currencies including the crypto behemoths like Bitcoin (BTC) and Ethereum (ETH) slumped massively while CHZ surged. In addition, there was a Chiliz crypto news update about three weeks ago that mentioned that it saw a rise of over 35% in a week, a similar gaining spree is seen currently as well since even during the crypto crash sessions lately, it managed to go up by 21.27% in the last seven days.
Latest posts by Linda Lopez
(see all)