The crypto market is still in bloodshed. Amidst this, the NFTs or the Non-Fungible Tokens are still hyped. It has been seen that in the past five days, the NFTs stemming from the famous CryptoPunk NFT collection have successfully surpassed the floor value of Bored Ape Yacht Club (BAYC) created Bored Ape NFT (APE). The statistics of the last ten days show that the floor value of CryptoPunks remained above the 60 Ether mark. The latter's floor price dropped below the 60 Ether mark.
What Is Floor Price In NFTs?
Well, the simplest definition of NFT or Non-Fungible Token floor price is "the lowest price for any NFT in a given collection." This means that floor prices are calculated taking into consideration the lowest price of the NFT collection which changes with the sale of the NFTs from the collection. For example, if a collection has 10 NFTs and one NFT in the collection has the lowest value, say, $50. Then the floor price of the NFT floor price will be $50. After this NFT is sold, the next lowest value would be the current floor price of the collection. 
Floor Value Race: CryptoPunk NFT Overtakes BAYC's Bored Ape NFT
Statistics on the floor price of both the NFTs have been recorded on Wednesday which is on the 16th of Nov 2022. At the time of writing, CryptoPunk NFT possesses a floor price of 66.50 Ether. At the same time, the APE NFT possesses a floor price of 58.182 Ether. This equates to a nominal of $83,027 for CryptoPunks and $71,688 for Bored Ape.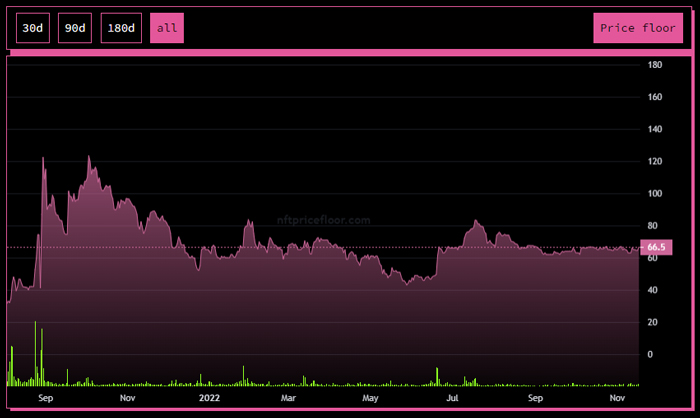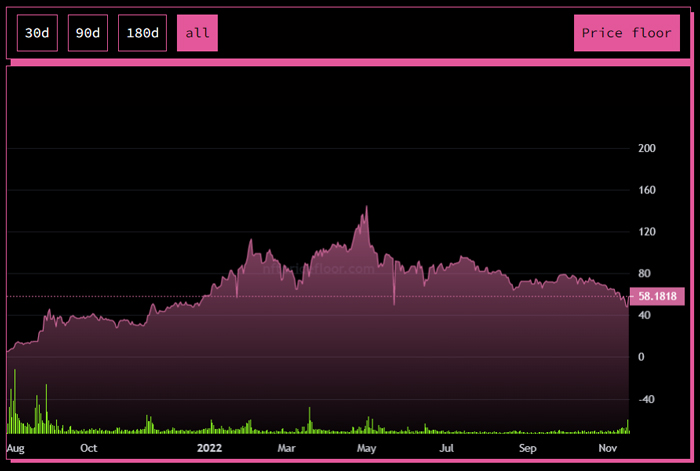 According to floor values on the 5th of November 2022, BAYC held strong at around 78 Ether (nftpricefloor.com statistics). On the same day, CryptoPunk NFT recorded 66.70 ether while ETH was changing hands for $1,650 per unit. At the time of writing, the Ethereum USD value per unit is $1,253, or over 24% lower than what was on the 15th of November.
Thus, it can be stated that both the CryptoPunk NFT and Bored Ape NFT will lead the pack considering the most expensive floor values in the NFT sector. Some of the other notable contenders this week in terms of floor price are – Azuki, DigiDaigaku, Mutant Ape Yacht Club (MAYC), QQL Mint Pass, and Where My Vans Go NFTs.

Latest posts by Juan Castro
(see all)