The crypto market is bearish again and it seems that the crypto crash sessions literally have no stop. This is why investors and other crypto participants are worried about the domain's future. However, there is one cryptocurrency that has emerged as a star amid today's bearish sessions, eCash Coin (XEC). Not only has it gained over 35% in the trading session today, but it has also managed to acquire a tremendous increase in its 24-hour trade volume. Want to know what is the possible reason behind such performance? Well, we do have an answer to it. But first, let's know what is eCash Coin all about.
What Is eCash Coin?
eCash Coin is the rebranded edition of the Bitcoin Cash ABC (BCHA), which is itself a fork of the largest digital currency, Bitcoin (BTC). The eCash CoinMarketCap page defines this crypto as one that:
"Itself a 'cryptocurrency that's designed to be used as electronic cash.' ECash strictly aims to be a means of transaction used to pay for goods and services. The coin was rebranded on July 1, 2021, and has since tried to distinguish itself from its predecessor. The base units of eCash are called 'bits' and replace the unwieldy decimal places of Bitcoin Cash ABC. Instead of sending 0.00001000 BTC, you would send 10 bits with eCash. ECash integrates a proof-of-stake (PoS) consensus layer called "Avalanche," which is not to be mistaken for the blockchain Avalanche (AVAX). Upon rebranding, eCash announced that it would convert all BCHA coins to XEC at a ratio of one to one million."
eCash Price Today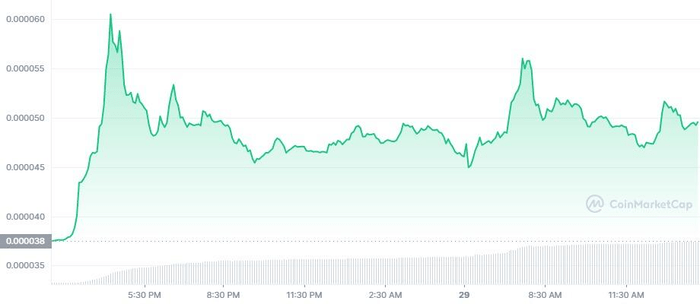 According to data from the eCash CoinMarketCap page, the XEC crypto price was up by 31.80% and it traded at $0.00005034 at the time of writing on Monday, August 29, 2022. The market capitalization of the token stood at $964.22 million, gaining by 31.79%. In addition, the 24-hour trade volume skyrocketed by a whopping 8672.47% to $689.87 million. 
The eCash crypto price prediction notes that it is expected to close the next year at an approximate value of $0.000149, for this, it still has to kill a 'zero' in the process. However, it might be a difficult task for it due to repeated crypto crash sessions and the not-ceasing crypto winter.
Why Is eCash Coin Up?
The official website of the eCash crypto recently posted a press release regarding the Avalanche Post-Consensus launch on the eCash mainnet on September 14, 2022. After the announcement was made on August 28, 2022, the eCash price gained a massive value. The release mentioned that:
"The launch of Avalanche Post-Consensus on the eCash Mainnet is a significant achievement. Post-Consensus brings 51% attack prevention which increases the security of the network significantly, bringing it on par with leading Proof-of-Work chains. It also brings 1-block finality to eCash, which opens the door for exchanges to enable 1 confirmation deposits."
Due to the recent news and eCash price today, we expect that the eCash crypto price prediction rating might see a change in the near future.
Latest posts by Linda Lopez
(see all)