Crypto, blockchain, and the metaverse are closely related. These sectors have indeed extended their roots into various other domains and dimensions. But did you ever imagine that 'metaverse wedding events' would be a thing? Like it is so unpredictable a thing that people are marrying on metaverse and even vowing to love each other forever through such technology. We are surrounded by different kinds of technological advancements but such a move was never thought of.
People around the world have been fascinated by such weddings. Moreover, the number of couples interested in having this kind of marriage has also risen. One can see a virtual representation of a couple who are ready to walk down the aisle and get married. Metaverse, the network that showcases the 3 dimensions of the digital world, has revolutionized the way traditional weddings used to look around the globe. Therefore, this article is aimed at providing snippets and information from metaverse weddings that occurred worldwide. Also, this obscure concept would be briefly explored for better understanding.
A Snapshot Of Alluring Metaverse Wedding Events
In February 2022, Ryan Hurley and Candice Hurley had a virtual wedding in the metaverse. The metaverse wedding event was held at the  Rose Law Group estate on the blockchain platform, Decentraland. The groom, the bride, their son, and the celebrant had to be physically present in the office of Rose Law Group, for coordinating the wedding event.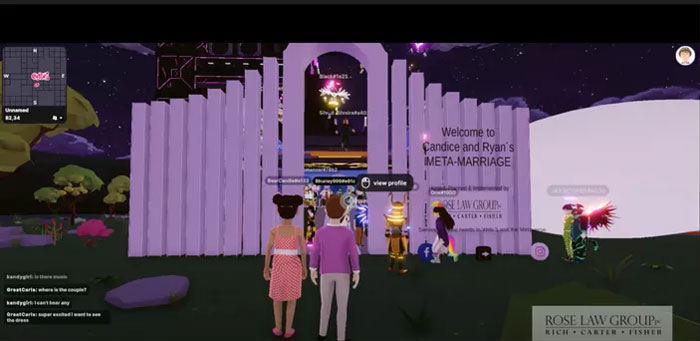 The couple had met on an online dating site and got legally married in 2008. When questioned about the sudden plan of a metaverse wedding after 14 years of their marriage, Ryan said that:
"I am always fascinated by new and exciting things and have kept up with the emerging technologies around blockchain. I suggested to my wife that this would be a fun way to both renew our existing vows and extend our marriage to a multiverse that would last forever."
The Hurley couple planned the wedding taking help from the Rose Law Group experts. Further, the beguiling venue that they wanted was designed by an expert metaverse architect. The avatars of the couple and several other people out of which some were known and some were just a bunch of curious unknowns. These digital creations were then compiled on a Decentraland property. The wedding venue was modified to look like a mountain town. An Arizona Supreme Court Justice, Clint Bolick, was the officiant who held the wedding for the avatar hosts and guests.
Hurleys opted to offer non-fungible tokens (NFTs) of their dog named Pepper in place of traditional wedding favor as a token of appreciation to the attendees of the virtual ceremony. NFTs operate on a blockchain network that is closely integrated with the metaverse and makes it inseparable from the metaverse domain. These tokens can also be exchanged digitally with cryptocurrency, therefore, the couple knowingly or unknowingly invited a host of new people to the crypto space.
If one wants to have a real-life wedding along with a spark of metaverse in it, even that is possible. Earlier, in March 2021, when the Covid-19 pandemic hit the globe, Rebecca and Peter Kacherginsky had a traditional Jewish wedding. But they sought to take vows of eternal love by exchanging NFT art with each other, thus incorporating an inextricable element of metaverse into their marriage.
The bride, Rebecca, who is also an employee at Coinbase explained her perspective on the matter and said:
"Blockchains are global ledgers which keep permanent records for all to see, own, send and receive." 
She continues,
"My husband wrote an Ethereum smart contract for our marriage that issued digital artwork as tokens to our cryptocurrency wallets. On the day of the wedding, we exchanged them, like rings, by sending them to each other from our cryptocurrency wallets."
The couple found and selected artwork by Carl Johan Hasselrodt to be used as NFTs and be exchanged in place of wedding rings. They were the first ones to contact him for a purpose of using his artwork as NFTs. The token is named "Tabaat" which translates to 'ring' in Hebrew. Rebecca expressed her joy on the matter saying:
"We fell in love with the motion in this piece, Loop 65, as it illustrates two distinct things becoming one, like in marriage."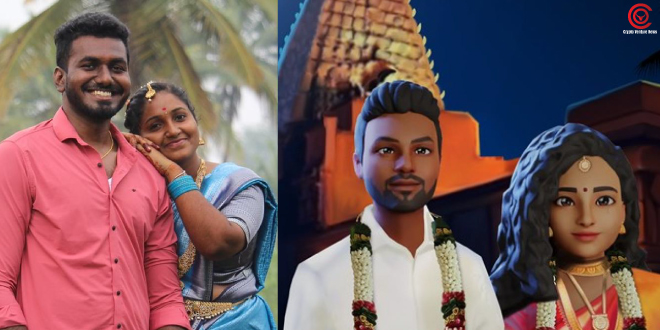 Another couple that married in February 2022 was from Tamil Nadu, India. They were also the first ones to hold such a wedding in the entire continent of Asia. Dinesh Sivakumar Padmavathi and Janaganandhini Ramaswamy, a South Indian couple, decided to marry as digital avatars and enjoy something beyond the traditional marriage customs. The wedding was also notable due to the fact that the bride's late father was also present there in the form of an avatar. The Tamil Nadu metaverse wedding was hosted due to the Covid-19 pandemic restrictions and the couple explained the same saying:
"Because of the pandemic, a physical, real kind of reception is not possible with the huge number of people attending." So, we decided: let's make it in the metaverse."
They even planned a traditional and legal wedding ceremony that was held in Ramaswamy's village in the Krishnagiri district of Tamil Nadu. It was only after this ceremony that they tuned in for a digital reception (the first metaverse wedding reception in Asia) which cost them around $2,016 (INR 150,000). The metaverse Indian wedding event was of an hour where the newlyweds' virtual deities welcomed their guests who were able to explore the magnificent castle and even customize the appearance and outfits of their avatars.
Are Metaverse Weddings Legally Accepted?
Currently, a metaverse wedding is not legally recognized. For explaining the concept further, President and Founder of Rose Law Group, Jordan Rose, who also aided with Hurley's metaverse marriage ceremony, said that:
"The marriage itself is recognizable with the meta-marriage certificate we developed. The meta-marriage certificate is a new concept for Web3 and is not a legal document."
However, on the other hand, Rebecca shares her own distinct opinion on the matter and said that:
"The blockchain, however, is forever, and anyone, anywhere can contribute to it and view it. It is unstoppable, impossible to censor, and does not require anyone's permission—just as love should be. Love is love. What could possibly be more romantic than that? While we are privileged to have a relationship that is approved of by society, not everyone is so lucky, such as those in non-heterosexual, interracial, or other relationships forbidden in the places where they live. Blockchain marriage gives individuals the power to declare and record a loving commitment without the need for a state, religion, or any other authority. On top of that, one's marital status on the blockchain can be kept private and anonymous in cases where a public display is not accepted or safe."
In addition, the vast array of opportunities for designing the venues and experiencing the best of the metaverse world is what makes it intimidating for one to try such a wedding. Also, apart from the host of the event, the guests can enjoy several options for customizing their avatars, which makes it just so much fun.
Metaverse Wrap Up
Missing out on a metaverse wedding experience would surely be a nightmare for today's generation who just loves technology. The blockchain domain's seamless potential is what made this a reality. Seeing the growing popularity of such weddings we can estimate that many other future couples might defy the traditional trends and might opt for a digital venue. And as the couples highlighted above said, this virtual space allows newlyweds to connect to people without the bounds of a country's physical boundaries. Moreover, the videos of the metaverse wedding crash went viral on platforms like Tiktok, thus garnering further attention.

Latest posts by Ozioma Sani
(see all)