The crypto market is performing considerably well today if compared to the recent crash sessions. Ethereum Name Service (ENS) is one of the cryptocurrencies that should be highlighted owing to its recent price actions. The latest Ethereum Name Service news is that the ENS crypto recently attained its 1-month peak and then continued gaining.
What Is Ethereum Name Service (ENS)?
The Ethereum Name Service CoinMarketCap page defines it as a:
"Ethereum Name Service (ENS) is a distributed, open, and extensible naming system based on the Ethereum blockchain. ENS converts human-readable Ethereum addresses like john.eth into the machine-readable alphanumeric codes you know from wallets like Metamask. The reverse conversion — associating metadata and machine-readable addresses with human-readable Ethereum addresses — is also possible."
"The goal of Ethereum Name Service is to make the Ethereum-based web easier to access and comprehend for humans – similar to how the Internet's Domain Name Service makes the internet more accessible. Like DNS, ENS also uses a system of dot-separated hierarchical names called domains with domain owners fully controlling their subdomains.

ENS launched with a highly successful retroactive airdrop in November 2021 that rewarded users who had registered addresses before the project launched its token. However, in February 2022, it faced criticism over apparently homophobic tweets by its director of operations."
Ethereum Name Service History Of Recent Price Actions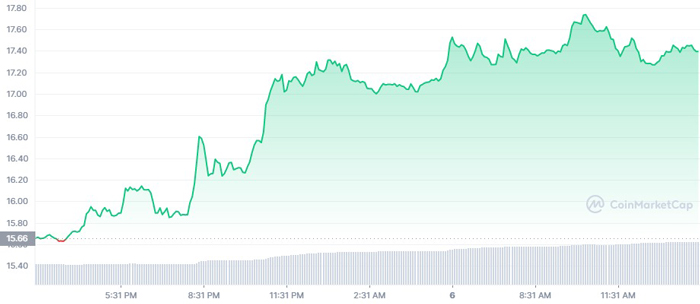 According to the data by the Ethereum Name Service CoinMarketCap page, the ENS crypto was up by 10.49% and traded at $17.29 on Thursday, October 6, 2022. The market capitalization of the token stood at $350.12, up by 10.51%. Further, the 24-hour trade volume skyrocketed by a huge 111.12% and was at $159.73 million. The ENS token reached its month-high the day before and reached a peak of $17.49. The Ethereum Name Service Price Prediction rating is pegged at $175.75 for the year 2031.

Latest posts by Juan Castro
(see all)