Polygon (MATIC) saw a price decline today after peaking on Friday, July 22, 2022. The Ethereum-scaling platform's native crypto, the MATIC coin, has lost a significant value compared to its 24-hour high of over $0.9. The crypto's bullish rally yesterday is what makes this sudden drop unexpected. However, the coin's popularity has not been hindered and people are still optimistic about its future performance. Another notable fact is that the moving average meter still indicates MATIC coin to be a "strong buy."
MATIC Coin Price Today
The MATIC coin price dipped by 1.86% and traded at $0.8802 at the time of writing on Saturday, July 22, 2022. The market capitalization of the Polygon crypto stood at $7.04 billion, down by 1.89%. Moreover, another downside was that the 24-hour trade volume of the MATIC crypto, which slid by a huge 33.02% to $985.85 million. The token slumped 4.66% from its 24-hour peak of $0.9222.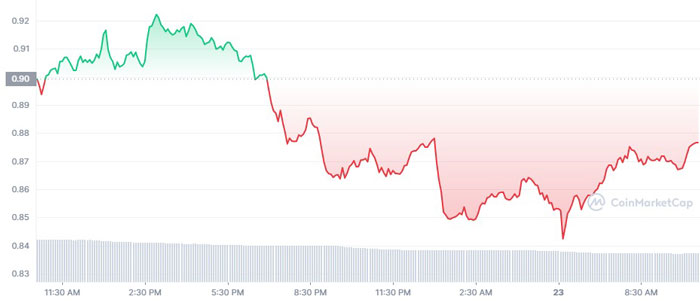 Technical Metrics
Even though the token has been declining today, its recent price gains have led to positive conclusions from the technical analysis indicators. The  Summary provided by TradingView indicates that the MATIC crypto is a 'Buy' currently with a good figure of 12 indicators suggesting a buy, 10 indicating that it's a 'hold' (neutral),  and 4 pointing toward a 'sell' action.
The Moving Averages data, however, suggests that MATIC is a 'Strong Buy' today with 11 indicators supporting a 'Buy', 3 for sell and 1 for hold (neutral). The 50-day Exponential Moving Average (EMA) stood at 0.6752, indicating an action of buy. In addition, the 50-day Simple Moving Average was at 0.5800, suggesting the same. However, the current MATIC price is sustaining above these moving average metrics, therefore, the price trend is upwards. In contrast, if the MATIC coin declines continue, the situation would shift to a recession trend. Therefore, it is necessary to study the market trends before thinking of making any investments.
Latest posts by Linda Lopez
(see all)