SuperFarm (SUPER), an Ethereum-based crypto, has been surging lately. The NFT marketplace forerunner surpassed the gains of all other digital currencies that were built to support the NFT ecosystem. The supporters of the SuperFarm crypto token took to social media to appreciate the coin's recent gains. One of them also highlighted the crypto's "major strength" that is still underway and is targeting towards a goal of $0.24. They are optimistic enough about the upcoming price trends for SUPER.
What is SuperFarm?
The CoinMarketCap website defines SuperFarm as:
"A cross-chain decentralized finance (DeFi) protocol built to facilitate the launching of new non-fungible tokens (NFTs) without the need for programming. A marketplace and an innovative set of tools allow any project to deploy a farm with its own rules."
It was built to enable NFT enthusiasts to launch their own line of non-fungible tokens. The crypto is currently listed on Binance, Gate.io, HitBTC, and Uniswap (V2). The native crypto launched by it, SUPER, has a current circulating supply of 1 billion tokens.
SuperFarm Crypto Price Today
The SuperFarm crypto price saw a bullish rally of 35.10% as it traded at $0.1800 at the time of writing on Friday, July 22, 2022. The market capitalization of the SUPER crypto stood at $72.08 million, up by 34.17%. Moreover, the 24-hour trading volume of the token skyrocketed by a whopping 404.98% and was at $64.22 million. The coin reached its 1-month high of $0.1945 today as it suddenly spiked from a price of $0.1405.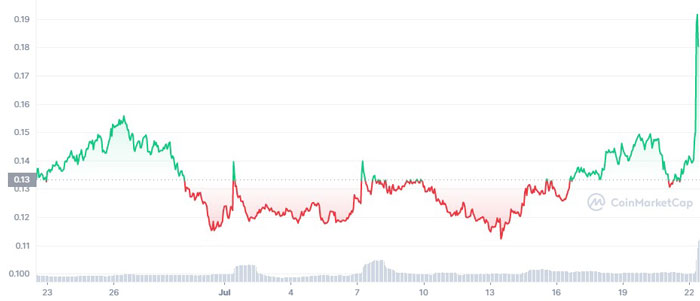 Though the SuperFarm crypto dipped considerably yesterday with the crypto market bearish session, it managed to reverse its losses and even gain further. The unexpected spike after a persistent flat performance is highlighted in the chart provided above. Moreover, the rise in demand and community support are other positives to be highlighted about this digital asset.
Latest posts by Linda Lopez
(see all)