Crypto wallets have been a thing these days with the introduction of various new cryptocurrencies and meme coins. There have been a lot of cryptocurrency wallets that you can spot on the internet, or you might know some of them. However, there are very few open-source crypto wallets and one of them is the MyEtherWallet (MEW). Thus, we bring to you a detailed MyEtherWallet Review so that it becomes easier for you to decide whether or not to go for the wallet creation.
Overview Of The MyEtherWallet
MyEtherWallet or MEW (as the company mentions on its website) is an open-source crypto software wallet. It permits you to store your Ethereum (ETH) safely. The wallet also offers you to swap all your digital assets directly within the service. This helps to prevent external exchanges and platforms from regular visits. Additionally, the open-source wallet comes with crypto hardware wallet support. This helps if you choose to keep your crypto assets in any compatible physical storage location. In addition to this, the wallet is also available as software as a service or SaaS, an application for Android, and even an iOS mobile device app. 
So, what is a software as a service or SaaS? Well, it can be defined as a method of delivering applications over the Internet as a Service (IaaS). In simple terms, you can simply access the applications and the features via the internet, and do not require installing or maintaining the software. Thus, you do not have to indulge in complex hardware and software management. The other names SaaS is known by include Web-based software, on-demand software, or hosted software.
MyEtherWallet is used by businesses in various industries like banking, engineering, IT, financial services, and software development.
MyEtherWallet Philosophy
The open-source MyEtherWallet works on the following philosophy:
Empowering People:

The wallet aims to offer people the capability to interact easily with the

Ethereum (ETH) blockchain

, without requiring them to run a full node.
Making It Free & Easy To Use:

The company believes that everyone must be able to

create a wallet

and send their Ether and other tokens without any additional cost.
Making People A Priority:

The philosophy of the company remains to keep people and their experience at the top of anything else. They state that if monetization such as ads causes any hindrance, they are out of it.
Creating A Learning Experience:

The open-source crypto wallet company aims to educate people about Ethereum (ETH), privacy, security, the significance of controlling their own keys, and how exactly the

blockchain

works. It also aims to educate on how Ethereum and blockchain together are able to create a better world.
Keeping It Offline / Client-Side:

They keep a focus on the fact that the users of the wallet are able to run the

wallet

locally as well as offline without facing any issues.
Making It Private:

The company strictly abides by no tracking, no emails, no ads, and no demographics. They do not keep a tab on how many wallet addresses have been created or where the users are from.

Keeping It Absolutely Open-Source & Auditable
MyEtherWallet Review: Top 10 Features To Look At
The following are the most promising features of the MyEtherWallet that without any doubt needs to be included in the MyEtherWallet Review. It will help in better understanding the open-source cryptocurrency wallet.
Blockchain Security
The wallet company has successfully partnered with the Samsung blockchain for providing all users with a secure environment for storing their private keys. The privacy of the users is important as cryptocurrency is a decentralized as well as an unregulated industry. Thus, the wallet does not permit users to access their funds without the appropriate keys. Nevertheless, it is absolutely important to keep your passwords in a secure location and ensure that you enjoy continuing access to all your crypto assets. 
DApps Accessibility
The MEW Wallet has already offered accessibility to four DApps at the time of writing. This includes – 
The wallet's website also lists out the upcoming DApps or Decentralized Applications that they are working hard for such as – 
MakerDAO

SafeSend

Golem Migrator

LEND Migrator

Unstoppable Domain

Ambrpay
Hardware Wallet Support
The MEW open-source wallet comes completely integrated with the hardware wallet providers. With these cold wallet providers, users will easily be able to store their coins within a physical wallet or hardware wallet. The affiliated hardware wallets included in the MyEtherWallet are:
Mobile Apps Support
Apart from the browser accessibility of the cryptocurrency wallet, the wallet provider has also listed the dedicated MEW wallet app for both Apple (iOS) and Android users. Android users can easily download the app on their mobile from the Google Play Store. While iOS users will be able to download the MEW wallet app on their iPhones and iPad from the Apple App Store. This makes it easier for mobile users to use the applications without any hassle on the go.
Multichain Wallet Extension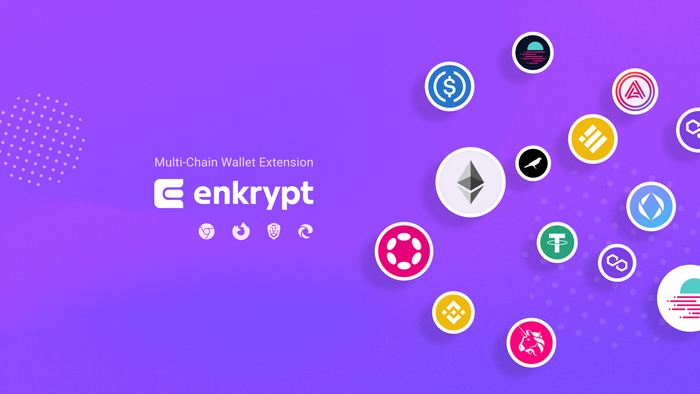 With the help of the multi-chain wallet extension of MEW, users can easily access all their favourite apps across Ethereum and Polkadot (DOT) chains, purchase cryptos, swap various tokens, and also manage their NFTs. Thus, the users can access the Web3 apps across multiple blockchains with the inclusion of the Enkrypt wallet. The company claims it to be the "multichain future". The Enkrypt wallet is completely browser-based, non-custodial, private, open source, and comes with hardware wallet support.
Smart Contracts
The wallet system supports smart contracts that automate several commonly performed transactions. The users can also configure contracts for executing specific tasks at particular times which eliminates the guesswork from contracts. For instance, you can ask the system to buy a set number of coins as it reaches an exact price. You can find more information on the smart contracts on the website of the wallet itself.
Supplementary Tools
MyEtherWallet is associated with some additional tools such as the following:
MEW Wallet

Enkrypt 

Verify Message

Convert Units

Generate Keystore File

Send Offline Helper
Swap Digital / Crypto Assets
The MEW open-source crypto wallet permits users to swap their digital assets directly within the application. It also permits you to exchange traditional fiat currency, Bitcoin (BTC), and Ethereum. This feature of the wallet increases convenience by eliminating the requirement to visit several platforms as well as cryptocurrency exchanges for swapping one coin into another. The following swaps are permitted:
Token Support
The best part is that The MyEtherWallet supports both ETH (Ethereum) alongside all ERC-20 Tokens. The following are the available tokens:
Tether (USDT)

Chainlink (LINK)

USD Coin (USDC)

Wrapped

Bitcoin (WBTC)

Crypto.com

Coin (CRO)

Aave (AAVE)

OKB (OKB)

Binance

USD (BUSD)

FTX Token (FTT)

cUSDC (CUSDC)

Dai (DAI)

Chiliz (CHZ)

cETH (CETH)

cDAI (CDAI)
Wallet Pricing
MyEtherWallet is completely free to download, and it does not charge any sort of wallet fees. The users are solely required to pay the blockchain fees, which are customizable in MEW. This helps the users to decide how much they are willing to pay for the gas fees.
Additionally, the support system of the cryptocurrency wallet is extremely useful. They possess a long list of support articles that you can go through if you face such an issue. You can also go ahead and take the help of email support or even use the chatbot that is offered on the website to talk to customer care and resolve your issues.
How To Use The MEW Wallet?
Using the MEW wallet is pretty straightforward. You can set the wallet as a web-based wallet or as a mobile wallet. Below is how you can use the MEW wallet in both ways.
Web Setup
Visit the

official website of MyEtherWallet

. Make sure you are on the official website/domain.

Click on "Create Account". In doing so, you will be offered three options to choose from – downloading the wallet mobile app, buying a hardware wallet or

cold storage

that you can easily connect to your

MyEtherWallet

, or creating a web wallet.

For using the web wallet, you will have to log in to your account using a Keystore file that you save on your computer or choose to use the twelve-word

mnemonic phrase

/

seed phrase

.

For using the mnemonic phrase, you will have to write down the seed phrase and then type in three of them in order to verify your wallet creation. Finally, you will have to log in using the twelve words of the phrase. For additional security, you can go ahead and add another word.
Mobile Setup
Download the

MEW wallet app

from the App Store if you are using an iPhone or Google Play Store if you are using an android phone. 

After installing the app, open it. 

Click on the "Create Wallet" option on the "Create a free wallet" page.

You will be asked to choose a six-digit PIN. Once you have typed it and confirmed the PIN, your Ethereum wallet will be generated.

Click on "Start Using

MEW Wallet

". 

Back up your wallet

as it will ask for it. To do this, you will be required to click on "Backup Now".

Follow the subsequent prompts to note down your wallet recovery

seed phrase of twelve words.
MyEtherWallet Review: Pros & Cons To Consider
The following are the advantages and drawbacks of MyEtherWallet. Considering these under the MyEtherWallet Review will help you to decide whether or not to go for it.
Pros
Account Overviews:

The wallet offers comprehensive overviews of the users' digital assets.

Convenience:

Multiple users have reviewed the product to be easy to use and intuitive.

Credit Card Purchases:

Various users have reported that they are able to use their

credit cards in order to buy cryptocurrencies

.

Customizable:

Customers reported that they were satisfied with the several customization options available on the wallet. 

ERC-20 Support:

The best part of the wallet pros is that it offers ERC-20

cryptocurrency

support. This made a significant number of users very contented.

Ethereum Support:

The product being a dedicated Ethereum application has made a lot of customers happy.

Hardware Wallets:

The

MEW Wallet

offers compatibility with a good number of physical wallets.

Mobile Apps:

Dedicated

MEW wallet apps

for both iOS and Android are available to use the wallet on the go.

Offline Access:

A good number of people have reviewed that they are able to access their accounts when they are not connected to the internet.

Token Support:

Several reviewers have stated that the program has made it easier for them to send and receive crypto

tokens

.

Web Portal:

The users who prefer web portals over mobile apps have stated that they enjoy the fact that the wallet can be used as a web-based app from any device irrespective of their location.
Cons
Difficulty In Usage:

It has been reported by the less tech-savvy users that they face trouble using the software. That said, it is a relatively common issue with crypto-related products.

Ethereum Focused:

A few have complained that the wallet solely supports

crypto assets

running on Ethereum and ETH-compatible blockchains.

Phishing Scams:

A few

MEW Wallet

users have mentioned that they have been targeted by phishing

scams

.

Updated Software: Some users have stated that they enjoyed the software till a major update had been released. However, they did not specifically mention what they did not like about the update.
MEW In A Nutshell
Following is a gist of what MEW Wallet is:
| Parameters | Details |
| --- | --- |
| | Web, Mobile, Browser Extension |
| | |
| | |
| Number of cryptocurrencies supported | |
| Is Bitcoin and Ethereum supported? | |
| | |
| | Help Center, Email, Chat Bot |
| | Buy, Sell, Swap, Exchange |
| | |
| | Simplified Payment Verification (SPV) |
| | |
Final Thoughts: Is The Wallet Worth It?
After going through the MyEtherWallet Review, it can be stated that the program permits you to secure your BTC, ETH, and other cryptocurrencies. You can very easily swap your digital assets with the help of the service. You can also store your coins in a physical wallet or in the cloud. MyEtherWallet will be a great choice if you are looking for a crypto wallet solution that additionally offers smart contract functionality.
Latest posts by Emily Baker
(see all)