The crypto market has been experiencing several bearish sessions lately. However, the situation has changed today as one can see major cryptocurrencies gaining. Among these, a metaverse ecosystem token, Torum (XTM), managed to reverse its 7-day losses to a profit. The XTM crypto price rose by over 7% on Wednesday.
What Is Torum?
The most popular crypto tracking website, CoinMarketCap, defines Torum as:
"A SocialFi Metaverse ecosystem that is specially designed for cryptocurrency users and projects. The Web 3.0 ecosystem is built on a social media platform at its core, integrated with a yield farming hub for DeFi players, an NFT marketplace for crypto artists, and Avatar NFT for Metaverse enthusiasts. Torum strives to become an open, safe and interconnected entry point for crypto users to discuss crypto and get connected."
Torum (XTM) Price Performance
Torum price today was up by 7.06% and traded at $0.02854 at the time of reporting on Wednesday, July 27, 2022. The market valuation of the XTM crypto stood at $2.3 million, up by 7.06%. Additionally, the 24-hour trade volume of the crypto gained by 16.02% and was at $331,539. It currently is trading 6.35% above its week-ago price of $0.02683.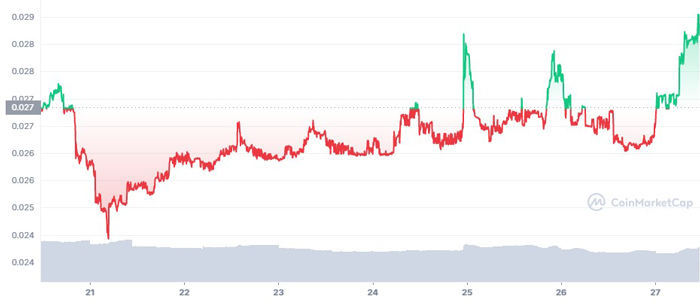 During the recent crypto crash sessions, the Torum crypto lost as much as 8.4% as it plunged to a value of $0.02455. Therefore, the recent 'green' performance is definitely notable and appreciable. However, the history of trade volumes per day shows that from July 3, 2022, to July 20, 2022 (just before the drop) a figure ranging from $400 million to $500 million. This figure then lowered to $300 million, which rightly indicates that the demand for Torum (XTM) started declining, which might have been a major factor in inducing the downtrend.
Latest posts by Linda Lopez
(see all)