The crypto domain has stretched far in an extremely unprecedented manner over the last few years. However, the growing popularity has also led to increasing frauds and scams in the sector. According to a Federal Trade Commission (FTC) report released on June 3, 2022, the crypto scam losses amount to a whopping $1 billion since the start of 2021. Isn't that a huge figure? Moreover, fraudsters and hackers have been using multiple and unique strategies to gain profits and wipe away crypto funds from investors. These cryptocurrency scams have been increasing at an alarming rate since last year.
The crypto domain still has unknown secrets and features that appeal to scammers worldwide. This is why reported losses skyrocketed by 60 times in 2021 as compared to 2018. In addition, over 46,000 people were victims of this crypto scam frenzy. In 2021, these losses amounted to $680 million and as of June 2022, the figure was $329 million. Further, the median individual reported loss amounted to a huge $2,600. These crypto fund losses are attributed to some popular cryptocurrencies, such as Bitcoin (BTC), Tether (USDT), and Ethereum (ETH), which were used for 70%, 10%, and 9% payments, respectively.
People aged between 20 and 49 reported losses three times higher than the older age group. Reports also indicated that people in their 30s got the worst blow and accounted for 35% of the crypto fund losses due to scams since 2021. However, the median individual reported losses increased with the higher age bracket and topped with $11,708 for people aged 70 and above.
Cryptocurrency Scam Mediums
The crypto scammers and fraudsters used various mediums and methods to extract huge amounts of crypto investments. The most common mode of carrying out fraudulent activities was social media. This is because of the fact that these platforms are often not moderated against theft or scams. The FTC report suggests that social media caused a loss of about four out of every ten dollars reported to be lost. The platforms that topped the list include Instagram (32%), Facebook (26%), WhatsApp (9%), and Telegram (7%).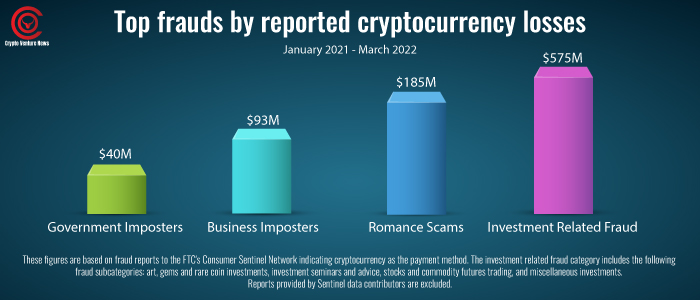 Most losses caused by the aforementioned medium were investment scams. About $575 million in crypto fraud losses reported to the FTC were due to "bogus investment opportunities." Thus, crowning it as the topmost means of fraud by crypto scam dealers.
Affected people shared several stories of being lured by almost unbelievable crypto earning opportunities. Fraudsters asked them to send a certain lump sum of money and made false promises that they would double it in a few hours and return the profits to them. Further, some crypto fraud operators did offer a 'testr' withdrawal to gain the victim's trust and then asked for transaction fees (in crypto) for the actual withdrawals. Then they never returned any funds to the affected party.
The next type of scam that is second on the list is the romance scam. Approximately, $185 million in losses were reported due to this type of cryptocurrency scam. The FTC report mentions that some "keyboard Casanovas" repeatedly lured people with their seemingly immense "wealth and sophistication." They would casually provide crypto trading and investing tips to common people and would charge them in cryptos. This crypto scam web caught thousands of people who wanted to 'profit' from the crypto market. The median individual crypto loss reported due to romance scammers amounted to a whopping $10,000.
The next on the list are business and government impersonation scams, which account for $133 million in reported cryptocurrency fraud losses. These crypto frauds were mostly initiated by sending messages about an unknown Amazon purchase or an online pop-up by Microsoft as a security alert addressing alarming concerns. Targeted people are warned of non-existent frauds to frame them in the real one.
In some cases, the scammers impersonated border patrol agents and alerted people against their accounts being frozen due to drug trafficking investigations and that the only way to protect their funds was to dump them in crypto. Victims mentioned that they were told to deposit cash in a crypto ATM and were sent a QR code for the same, which when scanned connected to the fraudster's wallet address and wiped off all funds in their account.
Squid Game Crypto Scam
One of the most notable scams in the last year is the Squid Game (SQUID) coin scam. The crypto that got its name from a Netflix series, Squid Game, created havoc when on November 1, 2021, it hit its All-Time-High of $2,856.64 and dropped to a legit zero in a few hours. The Squid Game token gained about 2,30,000% before crashing over 99% and this caused a loss of over $3 million to investors globally.
Victims could have survived this fraud had they adhered to official warnings. CoinMarketCap, a popular crypto-tracking website, issued a warning on its website that stated- 
"We have received multiple reports that the website and socials are no longer functional & the users are not able to sell this token in Pancakeswap. Please do your own due diligence and exercise extreme caution. This project, while clearly inspired by the Netflix show of the same name, is not affiliated with the official IP." 
However, the website now states that the SQUID crypto can be traded on popular crypto exchanges and this crypto venture is currently "ostensibly run" by its unknown developers.
Crypto Scams Alert!
Here are some points to be focused on for preventing any further crypto fund losses due to the aforementioned kinds of scams.
Only fraudsters will guarantee unbelievable returns:

Crypto assets are highly volatile and risky to deal with. Therefore, no one in the entire world can "guarantee" high returns from such an investment.
No legit person would force you to invest in crypto:

Any legitimate dealer, broker, or government agent, would never force you to

invest in crypto

. This is because they are aware of the risks and if they would want to provide you with real solutions, crypto would surely not be their first option.
Never trust an online Romeo and lose it all:

If someone you just met online becomes your love interest and tries to convince you to invest in crypto, just block them and move on. No sane person who thinks to do good to you would recommend such a gamble.
The unprecedented rise in crypto scam cases since last year is indeed worrisome for investors amid the crashing market. Therefore, it is highly recommended to take the necessary preventive measures and protect the acquired funds.

Latest posts by Ozioma Sani
(see all)