The EOS crypto (EOS) has been gaining considerably today as it was up by over 20% at the time of writing. The crypto market again saw a volatile performance as of yesterday. This was witnessed when crypto giants, Bitcoin (BTC) and Ethereum (ETH), saw a see-saw trading session for the second day in a row.
The EOS token surge was notable as even the meme coins, Dogecoin and Shiba Inu, which had been up yesterday were seen in the red. In addition, an array of other digital currencies also succumbed to the crypto market dynamics. This is one of the reasons why EOS enthusiasts and other crypto market participants appreciated the coin's performance lately and are even looking forth to buy EOS crypto. It was also noted that the EOS crypto price prediction analysis saw a change after the recent performance.
Why Is EOS Going Up?
The primary reason for EOS being in the 'green' today is that the EOS Network Foundation, the team behind the launch of this crypto, recently announced a Yield+ Incentive Program Launch. In a statement the EOS foundation mentioned that:
"The launch of the Yield+ Incentive program marks a major milestone that increases opportunities for dApp developers to be rewarded, and EOS users to earn a yield on the EOS mainnet. A method that directly measures and rewards increased economic activity on EOS can attract and retain an interest in the entire ecosystem, and the Yield+ team is about to deliver on that goal!"
The press release also noted the following details of the program:
"From August 14, there will be a two-week registration period for DeFi protocols (dApps) that wish to participate in EOS liquidity provision, after which, on August 28, daily rewards will begin for all the DeFi protocols that meet the minimum TVL requirements."
The organization then mentioned the smart contracts that would be harnessed by the Yield+ team. They are:
Yield+ Rewards (eosio.yield)

Yield+ Oracle (oracle.yield)

Yield+ Admin (admin.yield)
EOS Crypto Price Today
According to data from CoinMarketCap, a major crypto price-tracking site, the EOS crypto price was up by 22.87% and it traded at $1.57 at the time of writing on Wednesday, August 17, 2022. The market capitalization of the token stood at $1.56 billion, gaining by 22.82%. In addition, the 24-hour trade volume skyrocketed by a whopping 357.79% to $966.32 million.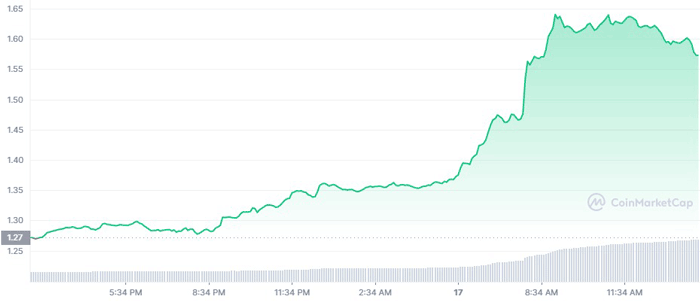 The day's high was recorded at $1.64, which is also the 1-month high for this crypto. The EOS crypto price prediction data currently shows that it is expected to reach $2.5 by 2022 end. If you want to buy EOS crypto, try checking it out on crypto exchanges like Binance, ByBit, BTCEX, OKX, and BingX.
Latest posts by Linda Lopez
(see all)