After the US Securities and Exchange Commission (SEC) barred Kraken, a top crypto exchange, from offering crypto staking services, Ether (ETH), the native token of Ethereum, had its worst daily performance of the year.  This has also impacted the Ethereum price today as well as Ether's overall price. 
SEC has levied allegations on Kraken that it has broken securities rules by providing crypto staking services to the U.S. retail investors. On the 9th of February 2023, the crypto exchange Kraken agreed to pay $30 million to settle the allegation of SEC.
This news has successfully pressed the prices of several Proof-of-Stake (PoS) blockchain project tokens in particular apart from other cryptos. Back in September 2022, Ethereum switched to a staking-based blockchain protocol that simultaneously suffered massively.
To stay updated with the latest news on Ethereum, visit https://cryptoventurenews.com/category/cryptocurrency-news/ethereum-news/. 
On the 9th of February, the price of Ethereum dropped nearly 6.5% to approximately $1,525. This was the largest single-day decline since last year's December 16th, as per the Ethereum Price Today.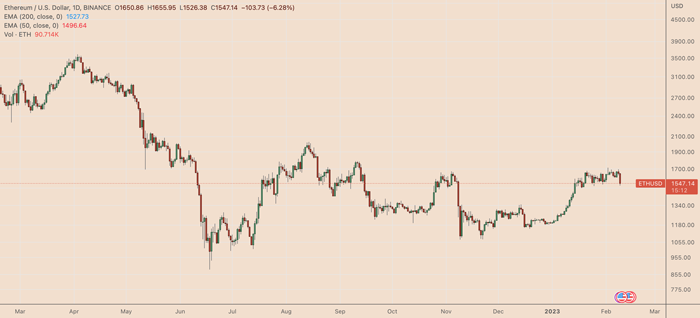 How Far Will Ethereum Staking Go After The SEC Crackdown?
The SEC's crackdown on crypto staking begins as Ethereum prepares to release Shanghai, its key network upgrade, in March. The update will finally allow Ether validators — entities that have locked roughly $25.6 billion in ETH tokens in Ethereum's PoS smart contract — to withdraw their assets as well as yield rewards. As a result, several analysts, including Bitwise Asset Management's Chief Investment Officer, Matt Hougan, believe Shanghai will be a positive event for Ether.
Hougan in his letter to investors in January wrote,
"Today, many investors who would like to stake ETH and earn yield are sitting on the sidelines. After all, most investment strategies can't tolerate an indefinite lock-up."
He added,
"So, most investors stay out of the market. But once that indefinite lock-up is removed, the percentage of investors willing to stake their ETH will explode."
However, concerns have been raised about the future of crypto staking in the United States, with Brian Armstrong, CEO of the Coinbase crypto exchange, fearing that the SEC will prohibit staking for retail investors in the future.
1/ We're hearing rumors that the SEC would like to get rid of crypto staking in the U.S. for retail customers. I hope that's not the case as I believe it would be a terrible path for the U.S. if that was allowed to happen.

— Brian Armstrong (@brian_armstrong) February 8, 2023
Moreover, some analysts argue that the ban on Ether-staking services will force users to move away from Ethereum. Notably, Ethereum requires stakers to deposit 32 ETH (~$50,000) into its PoS smart contract to be a validator. As a result, retail investors often use third-party staking services that pool smaller amounts of ETH to enable validator status.
Independent analyst Ripple Van Winkle argued,
"If the SEC bans crypto staking for the public, then a majority of Ethereum validators will have to come down." 
He further added,
"Because you need 32 ETH to stake. Which means the ETH network is going to experience issues."
The Price of Ethereum (ETH) Is Declining
Technically, Ether's price is poised for a 20% price correction in February, states Ethereum Price Today. Notably, the ETH price has been undergoing a pullback movement on the daily chart after testing its multi-month descending trendline as resistance. It now finds support near $1,525 on the 200-day exponential moving average (200-day EMA; the blue wave).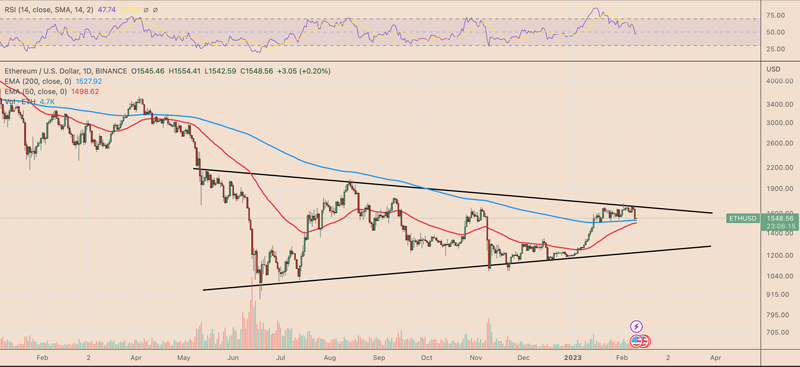 Because of the negative crypto market fundamentals, ether is at risk of falling below the 200-day EMA support wave. In this scenario, the next downside target is $1,200, which corresponds to a multi-month ascending trendline support.
This concludes our discussion on the latest Ethereum Price Today. Thanks for reading this article. Having the opportunity to share this with you was a pleasure. If you have any comments on this, we would appreciate hearing from you. You can request an article from us by contacting — [email protected] or leaving your request in the comment section below.
You can read more about the latest Ethereum news and Ethereum Price Today from the Ethereum News Section under the Cryptocurrency News category. Get in touch with us via Facebook, Twitter, Instagram, Telegram, or the Official Website of Crypto Venture News.

Latest posts by Juan Castro
(see all)