Filecoin (FIL) has been surging today amid volatile market trends. Moreover, the Filecoin price gain was the most significant among the top 100 cryptocurrencies according to the CoinMarketCap ranking. The FIL token increased by over 13% at press time, which was indeed notable. The reason for the sudden surge is still unknown, however, it is estimated that it might be due to the update that Filecoin made into Ledger Live.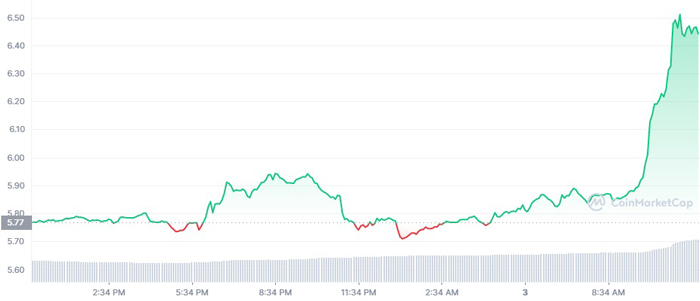 What Is Filecoin (FIL)?
The Filecoin CoinMarketCap page defines it as a:
"A decentralized storage system that aims to "store humanity's most important information." The project raised $205 million in an initial coin offering (ICO) in 2017, and initially planned a launch date for mid-2019. However, the launch date for the Filecoin mainnet was pushed back until block 148,888, which is expected in mid-October 2020.
The project was first described back in 2014 as an incentive layer for the Interplanetary File System (IPFS), a peer-to-peer storage network. Filecoin is an open protocol and backed by a blockchain that records commitments made by the network's participants, with transactions made using FIL, the blockchain's native currency. The blockchain is based on both proof-of-replication and proof-of-spacetime."
Filecoin Price Today
The Filecoin price today was up by 13.13% and it traded at $6.53 at the time of writing on September 3, 2022. The market capitalization of the FIL token stood at $1.79 billion, up by 13.87%. Moreover, the 24-hour trade volume surged by a whopping 125.14% to $364.94 million. 
However, it is much lower than its 1-month high that was recorded at $9.47 on August 7, 2022. Within almost a month since that, the FIL crypto lost a considerable value of nearly 31%. The loss can definitely be attributed to the recent crypto crash sessions and of course the crypto winter.
Latest posts by Linda Lopez
(see all)