Shiba Inu (SHIB), the dog-faced meme coin, is trending on CoinMarketCap, the leading crypto price-tracking website. The latest Shiba Inu news talks about the crypto begging back in trend as meme-frenzy digital currencies are known for. However, despite being on the trending section, the Shiba Inu price today did not gain by much.
What Is Shiba Inu?
Shiba Inu is a dog-faced meme coin that calls itself the Doge-killer. The biggest rival it has is the Dogecoin (DOGE), which is also its inspiration. For a detailed look at the coin let's see what the Shiba Inu CoinMarketCap page says. It notes that:
"This meme coin quickly gained speed and value as a community of investors was drawn in by the cute charm of the coin paired with headlines and tweets from personalities like Elon Musk and Vitalik Buterin. Vitalik Buterin was long believed to be the originator of Shiba Inu, but denied such rumors on the Lex Fridman podcast on June 5, 2021.

Shiba Inu aims to be the Ethereum-based counterpart to Dogecoin's Srypt-based mining algorithm. Shiba Inu and the SHIB token are part of a swarm of dog-themed cryptocurrencies, including Baby Dogecoin (BabyDoge), Dogecoin (DOGE), JINDO INU (JIND), Alaska Inu (LAS) and Alaskan Malamute Token (LASM). These lesser-valued tokens have attracted investors who missed the Dogecoin pump from 0.0002 to nearly 0.75 USD."
Shiba Inu Price Today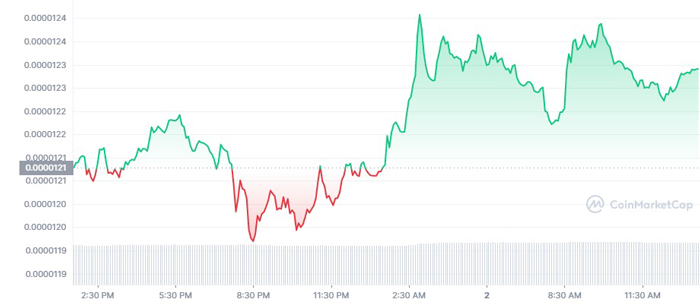 Though the latest Shiba Inu news suggests that it is indeed trending at number 1 on the trending section of the price-tracking website, CoinMarketCap, the crypto managed to gain a little over 1%. The Shiba Inu CoinMarketCap page shows that the SHIB token was up by 1.42% and traded at $0.00001225 at the time of writing on Friday, September 2, 2022. The market capitalization of the token stood at $6.7 billion, up by 1.43%. The 24-hour trade volume also increased slightly by 6.71% and was at $279.28 million.
Latest posts by Linda Lopez
(see all)