The crypto market is rebounding recently as it had seen several 'red' sessions recently. The most notable surge has to be that of Folem (GLM). The Golem price has been witnessing a surge over the last three days. However, it did take a break in the middle due to a pullback but later jumped again. If you are wondering what is Golem crypto then first let's address that.
What Is Golem Crypto?
The Golem CoinMarketCap page defines the project and talks about how it was developed stating:
"On April 28, 2016, the Golem Project was announced, led by Golem Factory. The network launched on the mainnet on April 10, 2018. The Golem Network is a decentralized computation network, a new way of distributing redundant computing power to those who are in need of it, on-demand. It creates a peer-to-peer network where users join on an equal basis to buy and sell computation, splitting up complicated tasks into smaller subtasks in the network. In Golem there's no central authority and no user is more or less important than another.

GNT or Golem Network Token is needed to pay for computations on the network and is the currency that drives our marketplace. As a Requestor, you set a bid for an amount of GNT you are willing to pay to have your task completed. As a Provider, you earn GNT by computing tasks for Requestors. You can set your minimum and maximum price thresholds in your settings."
Golem Price Today
The Golem CoinMarketCap page shows that the GLM token was up by 48.28% as it traded at $0.4176 at the time of writing on Monday, September 12, 2022. The market capitalization of the crypto stood at $417.7 million, up by 48.04%. In addition, to the surge in Golem price today, we also spotted that the 24-hour trade volume skyrocketed by a huge 442.43% and was at $256.07 million.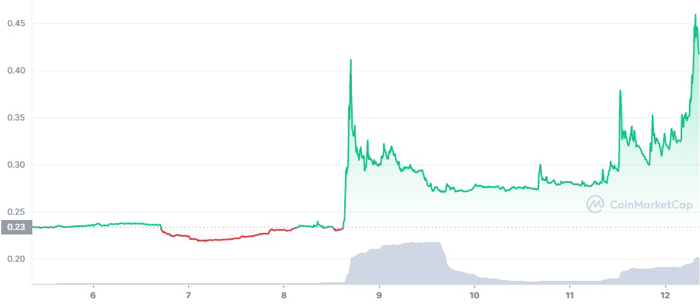 The day's high for the token was $0.4665, which was also the 1-month high. The token saw a sudden surge on September 8, 2022, as it spurted from a price of $0.2 to $0.4 in a matter of a few hours. The Golem price prediction rating suggests that the crypto is set to reach a price of $0.49 by this year. It might achieve this target soon if it continues such a gaining momentum.
Latest posts by Linda Lopez
(see all)