In recent years, the cryptocurrency market has grown exponentially, with new investors and traders entering the market every day. As more and more people invest in cryptocurrency, the need for a reliable and secure cryptocurrency exchange service has become increasingly important. That's where Secureshift.io comes in – as the most trusted crypto exchange service in the market.
In this article, we'll take a closer look at what makes the crypto exchange service platform the go-to platform for all your crypto trading needs.
What is Secureshift.io?
Secureshift is a next-generation service for cryptocurrency exchange that offers a user-friendly platform for exchanging digital assets. The exchange is designed to provide a secure and reliable crypto shifting environment, with advanced security measures to protect users' funds and personal information.
One of the unique features of Secureshift.io is its multi-tier security system. The exchange uses advanced encryption technologies to protect user data and funds and other security measures to prevent unauthorized access. Most importantly, you do not have to create any account on the platform or store any funds.
Secureshift.io crypto shifting service also uses a proprietary matching engine that ensures fast and reliable exchanges. The platform is capable of handling high volumes of transactions, with low latency and minimal downtime.
Why Choose Secureshift.io?
If you're looking for cryptocurrency exchange services that offer top-notch security and reliability, Secureshift.io should be at the top of your list. Here are some of the reasons why:
Advanced Security Measures
As mentioned earlier, Secureshift.io uses a multi-tier security system to protect users' funds and personal information. The exchange also conducts regular security audits to ensure that its systems are up-to-date and free from vulnerabilities.
Fast And Reliable Exchanges
The proprietary matching engine used by Secureshift.io ensures that shifts are executed quickly and accurately. This means that you can exchange or shift your cryptocurrency with minimal delays, even during periods of high exchange activity.
User-Friendly Interface
The Secureshift.io platform is designed to be user-friendly, with an intuitive interface that makes it easy to exchange cryptocurrency. Even if you're new to trading or exchanging crypto for the very first time, you'll find the platform easy to navigate and use.
Low Fees
Unlike some other cryptocurrency exchange services, Secureshift.io charges low fees for its exchanges. This means that you can shift cryptocurrency without having to worry about high transaction costs eating into your profits.
Multiple Cryptocurrency Options 
Secureshift.io supports a wide range of cryptocurrencies, to be specific over 300 coin varieties including Bitcoin (BTC), Ethereum (ETH), Litecoin (LTC), Monero (XMR) and many others. This means that you can exchange a diverse range of assets, depending on your investment goals and preferences. The user interface and security features are exceptional making it easier to conduct BTC to ETH or BTC to XMR or any other crypto coin exchanges in a jiffy.
How To Use SecureShift.io?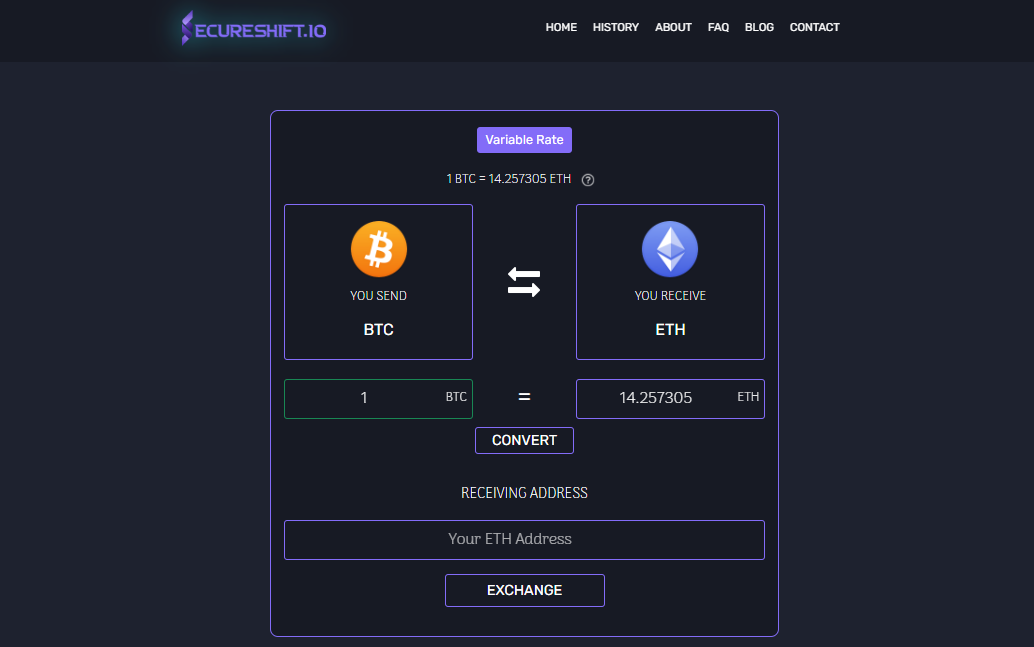 Getting started with Secureshift.io crypto exchange services is easy. Here's a step-by-step guide to using the platform:
Select Cryptocurrency
Choose the cryptocurrency you wish to send to SecureShift to shift or exchange.
Select Coin You Want To Receive
Select the cryptocurrency you wish to receive through the shift from SecureShift. Choose between "VARIABLE RATE" or "FIXED RATE." Enter the recipient address for the cryptocurrency you want to receive from SecureShift. This is the address where your desired shift will be sent.
Exchange!
After you are done selecting the coins and completing the second step, all you need to do is press on the "Exchange". You will be provided with the order details displayed at the top of the page. Then, using the QR code or the address displayed, send the selected coin to SecureShift.io. When you have successfully submitted the shift deposit to SecureShift.io, your order will be processed immediately and sent to your specified address.
Conclusion
Secureshift.io is the most trusted cryptocurrency exchange in the market for a reason. It is the ultimate solution for anyone looking to invest in the cryptocurrency market. Its advanced security measures, user-friendly platform, low fees, and support for multiple cryptocurrencies make it the most trusted exchange in the market. Whether you're a seasoned trader or a beginner, Secureshift.io provides a secure and reliable platform for exchanging digital assets. So if you're looking to secure your crypto exchanges, look no further than Secureshift.io.

Latest posts by Tenzin Sherpa
(see all)