The cryptocurrency domain has extended into a vast array of fields and sectors that it has already started altering. In addition, it has also enabled a host of solutions to various problems that these industries earlier faced. Moreover, the fact that it has extended its roots into fields that could not be even imagined. The thing that crypto and blockchain have immense potential is being understood by more people.
However, did you know that one could sweat and earn SWEAT? Well, we are certainly sure that this update is not known to every crypto enthusiast in detail. This is why we thought of bringing you intricate details on the Sweat Wallet crypto earnings. Go through the information with utmost caution to understand how you can earn using Sweat Wallet.
What Is Sweatcoin?
Are you wondering why we are discussing Sweatcoin first? The reason behind this is that this is the company behind Sweat Wallet. Therefore, you can understand how to get Sweat Wallet crypto earnings only after you know about the company at least in brief. So, the company has its native crypto that is named Sweat Economy (SWEAT). The company is responsible for launching a mobile app named 'Sweatcoin' as well.
The mobile app can be used to earn Sweatcoins which are non-crypto virtual tokens that can be converted into cash. For this, one needs to walk more steps to earn more tokens. The company's aim is to motivate people to take care of their health by increasing the activities that they do. To Understand the concept better let us have a look at what the Sweat Economy CoinMarketCap page defines Sweatcoin as:
"Sweatcoin is a highly popular mobile fitness app that was first launched in 2016. With over 110 million users worldwide, the app sets out to motivate healthier living by rewarding users for daily physical activity. Users are rewarded with an in-app currency — Sweatcoin, a non-crypto virtual token which functions as a monetary incentive to reward users for their physical activity. At the time of writing in September 2022, Sweatcoin is ranked first for the most downloaded health and fitness app in 58 countries."
The concept of earning by walking had been harnessed by other companies as well but the way Sweatcoin implemented it was liked by many. Therefore, when the company went to introduce their cryptocurrency, it was considered as another bold move. By the way, do you still remember the alluring Sweat Wallet crypto rewards that can be earned by your steps? Well, we will answer that a bit later so hold your horses and keep reading.
SWEAT Crypto Price History
The Sweat Economy Litepaper mentions that it is:
"Sweat Economy is the natural evolution of Sweatcoin. Global, open, and fair, SWEAT is a next-generation cryptocurrency that will bring the next billion people into Web 3.0 and make movement part of global GDP."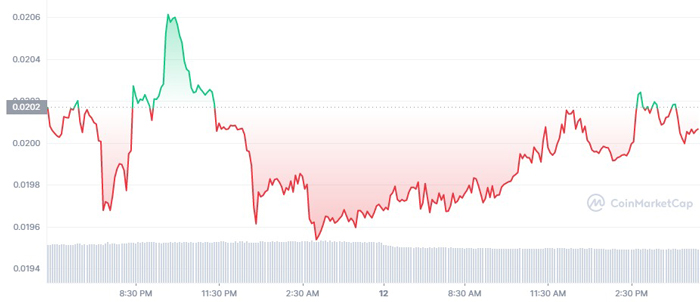 The SWEAT crypto is not performing that well recently. This might be because of the fact that the Initial Coin Offering (ICO) for this cryptocurrency took place in the month of September this year. At that time, the market conditions were bearish and due to the crypto winter, people lost faith in making any crypto investments, especially staying cautious about new additions to their portfolios.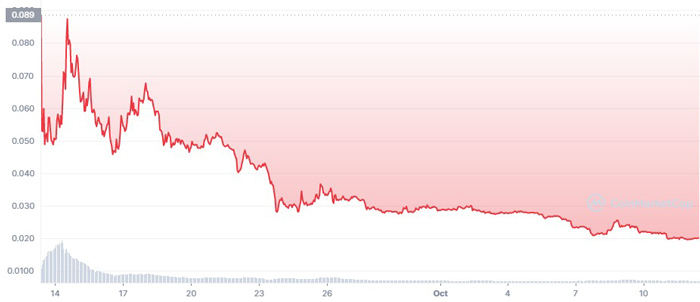 At the time of writing, the SWEAT crypto price was down slightly by 0.39% and traded at $0.02007. The market capitalization of the crypto coin stood at $41.02 million, declining by 0.21% in value. In addition, the 24-hour trading volume dropped substantially by 12.71% and was at $4.49 million. The day's high was $0.02061; however, it did extend much below that and reached a low of $0.01953.
The Sweat Wallet crypto reward token, SWEAT, began trading at a value of $0.05101 on Tuesday, September 13, 2022. The SWEAT crypto price then reached a high of $0.09257 that day, however, the lowest value it touched during the day was $0. Thereafter, the coin saw an initial uptrend but then plunged hard due to extreme market conditions. On the first day of trading, it acquired a massive 24-hour trade volume of over $168 million but with time the numbers kept on decreasing.
How To Earn Sweat Wallet Crypto Rewards And Incentives?
Sweat Wallet crypto incentives are based on the 'Move To Earn' Principle. Along similar lines, the litepaper of Sweat Economy mentions that:
"We say, we are just getting started. The mission remains the same: to reward movement to inspire a healthier, wealthier planet. Tokenization, however, changes everything. What was regional, becomes global. What was centralized, becomes permissionless. What was a closed economy, becomes a world in which every step mints a token that can be exchanged, redeemed, and applied to many new use cases. We call this…The open economy of movement"
So how can you exactly earn Sweat Wallet crypto rewards? Well, everything requires hard work and so does this. You need to increase your physical activity. The process is a little long but once you get a hold of it, you would be able to do it much more easily. The steps to earn Sweat Wallet crypto rewards through steps are mentioned below.
First, you need to install the

Sweatcoin mobile app

along with the

Sweat Wallet App

.

After signing in, complete the daily steps target and then earn Sweatcoins (the non-crypto digital tokens). These Sweatcoins will be checked through the

Sweat Wallet app

.

Now, the actual trick will kick in. The

CoinMarketCap

website also mentioned that "users can now convert

Sweatcoin

to SWEAT — the crypto token — to claim real-world prizes and experiences."

Once you convert the Sweatcoins into SWEAT, the crypto tokens, then you will be able to own the value at which the crypto is trading at that moment.

You can then use these crypto coins to make other investments using the crypto exchanges that SWEAT is listed on including

OKX

, MEXC, XT.COM, BingX, and Bybit.
[Note: The Sweat Wallet app is a must even after the conversion of Sweatcoins into SWEAT to keep a track of your earnings.]
The creators of this token, however, mentioned that they do not claim that sweating through physical means that people are becoming healthy.  But they do believe that increasing physical activity does ensure a positive change in one's life. They explained this and their purpose by noting:
"SWEAT increases physical activity, but we wouldn't want to claim that

SWEAT 'causes' a healthier world. The relationship between health and physical activity is one of correlation, not causation.

When people become more physically active, they are more likely to improve their health in other areas too. SWEAT can kick-start that positive feedback loop for people's physical and mental health.

Consider that the purpose of SWEAT. We want people to get moving because we hope, by incentivizing one contributing factor to general well-being, that we can play a part in bringing about that well-being to a greater number of people."
A Sweaty Round-up! 
Sweat Wallet crypto rewards are fascinating, right? The creators behind this have put in a lot of effort to build this ecosystem. Therefore, if you are someone who likes to do physical activity and wants to 'move to earn' then you should definitely give this one a try. Crypto and health together are rarely seen but the combination is indeed amazing it seems. Also, do refer this article to those who want to bring positive modifications in their lifestyle by changing the way of activities they undertake. Moreover, people who are interested in acquiring new crypto investments can be told about the Sweat Wallet as well.
Latest posts by Emily Baker
(see all)