The cryptocurrency sector has been flourishing lately. Therefore, more and more people are wanting to be a part of this domain and invest in these volatile currencies. For this purpose, it is important that people choose the right crypto exchanges in order to invest in these currencies in an optimum manner. The UK has also seen a spurt in people supporting and investing in crypto. Therefore, we have curated a list of trading platforms in the area so you can choose the best crypto exchange UK has.
Choose The Best Crypto Exchange UK
The list of crypto exchanges mentioned below has some of the top trading platforms to choose from if you want to trade in crypto in the United Kingdom. We want you to choose the best crypto exchange UK people can consider and comment down below. Therefore, go through the list carefully and keep a note of every detail provided.

1. eToro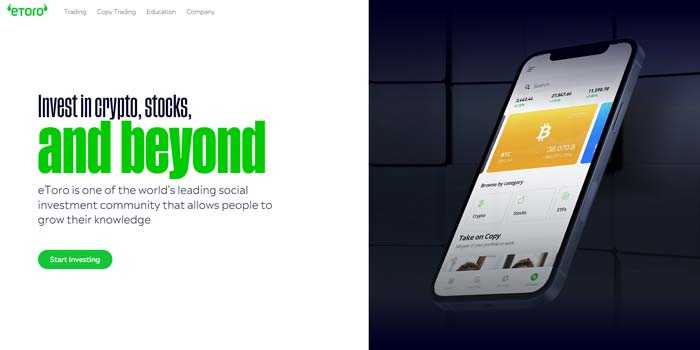 eToro is a trading platform that lets one trade in a variety of assets. It offers the option to invest in both stocks and crypto markets. In addition, it allows one to trade in CFDs (Contract For Differences). Therefore, this is the best crypto exchange UK investors can register on for ones who like to invest in multiple assets, as it provides an opportunity to trade in other assets as well (stocks). Further, the exchange lists over 120 distinct cryptocurrencies including renowned coins like Bitcoin (BTC), Ethereum (ETH), Tether (USDT), and Solana (SOL).
The platform does not charge a fee on deposits but the transaction on any kind of buying or selling activities on the site attracts a transaction fee of 1%. The concept of maker or taker fees is not a part of the exchange's operations. However, the minimum deposit amount is £8 ($10), so one can't trade with an amount less than that. Further, people who are new to crypto trading can use its free demo account that comes with $100,000 funds that can be used to learn how the entire crypto investment domain works. The exchange lets you use its wallets and trading tools for free.
eToro can be considered as the best crypto trading platform UK participants can try due to the fact that it offers an eToro Money app. This app can be used to convert your GBP into USD without any additional costs. Thus, your foreign exchange expenses are minimized. Also, another perk is that it is registered under the Financial Conduct Authority (FCA), making it more trustworthy.
2. Uphold
Uphold is a cryptocurrency exchange platform for beginner traders as the interface is simple to use and advanced crypto trading tools do not bother newcomers in the sector. The platform lets one trade in over 90 cryptocurrencies that include popular coins, altcoins, and budding tokens. This exchange enables one to trade in three prominent national currencies that are GBP, USD, and EUR. The minimum deposit required on Uphold is £0, which means that the minimum investment amount can be anything you like, a merit of course.
The one feature due to which this can be the best crypto exchange UK investors can rely on is the AutoPilot option. It lets people schedule their daily transactions that are recurring in nature in advance. This is one of the ways which can prevent the market from being very volatile. The platform also does not charge a withdrawal fee, which is another advantage. However, people have to pay FX (Foreign Exchange) charges along with maker-taker fees that range from 0.85% to 1.25% and 1% to 1.25%, respectively.
3. CoinJar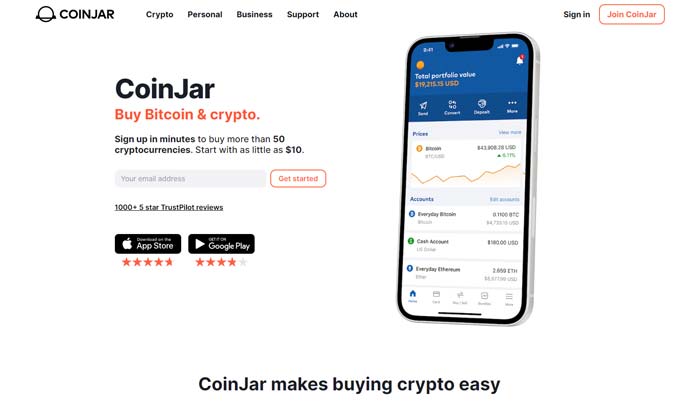 CoinJar is a digital currency trading platform that is based in the UK and Australia. The platform allows you to trade in more than 50 currencies including BTC, ETH, SOL, USDC, and XRP. The platform enables a free cryptocurrency online wallet that makes the transaction activities easier. The most important perk due to which this can be considered as the best crypto exchange UK crypto enthusiasts can try is that it offers a CoinJar Card. The card lets one purchase goods or services using crypto both in traditional and online ways. Also, there are no extra charges for this service.
It is the best UK crypto exchange as it is based in that region and is native to it. However, there is one downside that the minimum deposit amount is higher than that of all the exchanges on the list. CoinJar requires a deposit of £10, which might be a significant amount for beginners. But one thing is that it does not charge any FX fees as all payments are to be made in GBP only.
The trading fee charged on this exchange is 1% both on the site and the mobile app. Meanwhile, it charges a taker of 0.00% for aggressive limit orders and market orders. On the other hand, makers have to part with a 0.04% to 0.1% fee on limited orders. It is also trustworthy to an extent as it is registered with FCA. CoinJar is the best crypto platform UK residents can try due to its low fee strategy.
4. OKX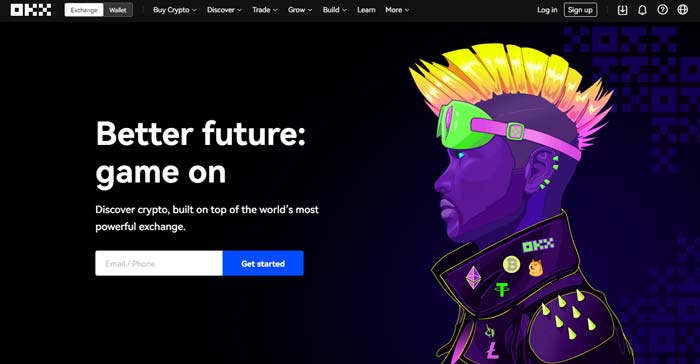 OKX is one of the most popular crypto exchanges on the globe. It permits the user to trade in multiple cryptocurrencies at the same time. Ones who love meme coins can also choose this platform as it has listed some of the prominent meme-frenzy tokens. The exchange allows one to trade digital currencies using GBP and 30 other fiat currencies. You can also venture into the crypto trading pairs and use your existing crypto assets to buy new ones. This platform is the best crypto exchange UK beginner investors as well as experts can try. This is because of the fusion of a simple interface with advanced trading tools.
There is no minimum deposit value! Further, it does not charge an FX fee, which is an advantage as it reduces the costs that would have been incurred in foreign exchange transactions. The exchange, however, charges a maker-taker fee that is based on whether you are a regular or VIP user. It is the best crypto exchange UK enthusiasts can try as the fee rates are pretty low.
Regular users need to pay a maker charge of 0.060% to 0.080% while takers need to pay a fee of 0.080% to 0.1%. On the other hand, VIP users need to pay a maker charge of -0.005% to 0.060% while takers need to pay a fee of 0.020% to 0.080%. Therefore, the fee rates are nominal in nature and the VIP users even get exempted based on the trade volume.
However, it is the only platform listed here that is not approved by the FCA. Therefore, it might not be the best crypto platform UK investors might want to try if they want the exchange to be registered under FCA. However, it has indeed obtained a license in Dubai, which can be a proof of it being legit but the fact that it is not a UK-approved license still remains.
5. Coinbase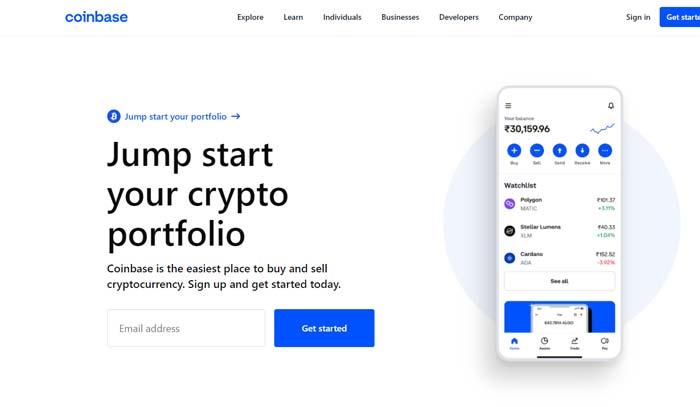 Coinbase is a known crypto exchange that operates in not just the UK but in various countries in the world. It lets one trade in the most number of cryptocurrencies on the list of exchanges that we have provided here. One can buy, sell, hold, and earn in over 500 virtual currencies, which increases the investment options for people. The platform enables a feature that can be used to schedule recurring transactions that too on a daily, weekly, or monthly basis. The Coinbase app is available on both iOS and Android devices for easier access.
One can also consider trading in NFTs and other digital assets. However, there is one drawback compared to others, which is that it charges multiple fees for every transaction or activity on the site. Fees are calculated based on a number of factors that include the volume traded, the amount, the time of the transaction, and the nature of the trading activity. But yes, since it is globally accepted and registered under the FCA, it is completely legit.
[Bonus: If you are looking for the cheapest crypto exchange UK people can try, we do have an answer to that. The cheapest crypto exchange UK residents can consider is Binance. This is because its trading fee is as low as 0.1% for both makers and takers. But you need to invest in its native token BNB to avail this perk. It is indeed the best crypto trading platform UK people can choose due to its global reach and trustworthiness.]
Bottom Line
Well, for us it is very difficult to make a choice about the best crypto exchange UK has. But you can definitely pick and share your views on it as to why you think it is the best. Every crypto exchange we mentioned has its own pros and cons, but it depends on the investors' needs and which one will suit them the best. Also, we believe that eToro, Uphold, CoinJar, OKX, and Coinbase are all great in their place.
Ones who do not want a high minimum deposit amount can go for Uphold, OKX, and Coinbase. Meanwhile, the ones who want to save on transaction fees can consider CoinJar and Coinbase as the best UK crypto exchange option. However, don't forget to check details about other features before making a decision. This is because we want that your trading experience is not hindered due to a wrong choice.

Latest posts by Tenzin Sherpa
(see all)