Ordering goods or services online is not a big deal nowadays. However, the fact that you can buy food with crypto that too using online food delivery service sites is definitely a new thing. Therefore, we decided to bring you the list of 5 food delivery sites that offer you the option to pay with Bitcoin and a number of other cryptocurrencies.
Delivery Sites That Allow One To Buy Food With Crypto
We have accumulated a list of food delivery sites that will enable you to buy food with crypto. The host of services mentioned below provides specific or different varieties of food items. Also, the sites we have noted are not based in one location or country, therefore, a lot of people worldwide can avail of their order food by crypto payments service.
1. Doordash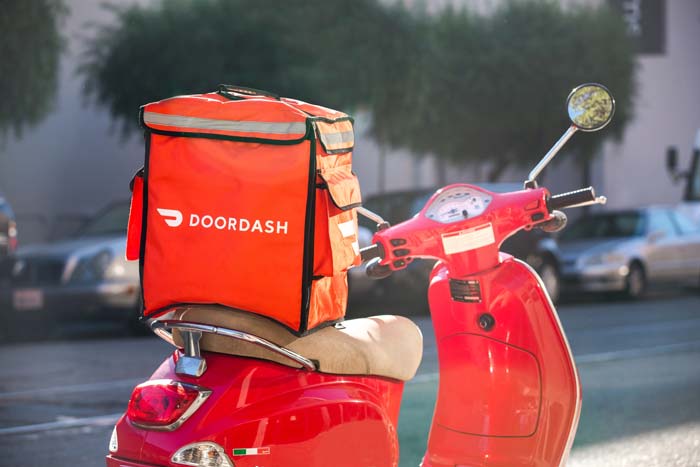 Doordash is an American food delivery service company that is based in San Francisco. It operates both on the official site and the mobile app. Once you order food a "dasher" will deliver it to you. Ones who have tried that service noted that it is extremely fast and reliable. It also offers partnerships with individuals and companies in order to grow together, which is indeed a great thing. The organization defines itself as a:
"Technology company that connects people with the best of their neighborhoods across the US, Canada, Australia, Japan, and Germany. We enable local businesses to meet consumers' needs of ease and convenience, and, in turn, generate new ways for people to earn, work, and live. By building the last-mile logistics infrastructure for local commerce, we're fulfilling our mission to grow and empower local economies."
Earlier, the company partnered with BitPay which would let it accept cryptocurrency, especially, Bitcoin (BTC), the largest cryptocurrency in the world. However, one cannot directly pay using crypto on the site or app itself. To buy food with crypto on Doordash one needs to acquire a gift card through BitPay only then this act is possible. Therefore, visit the blog by BitPay on the same and learn the actual procedure to order food using crypto.
2. Uber Eats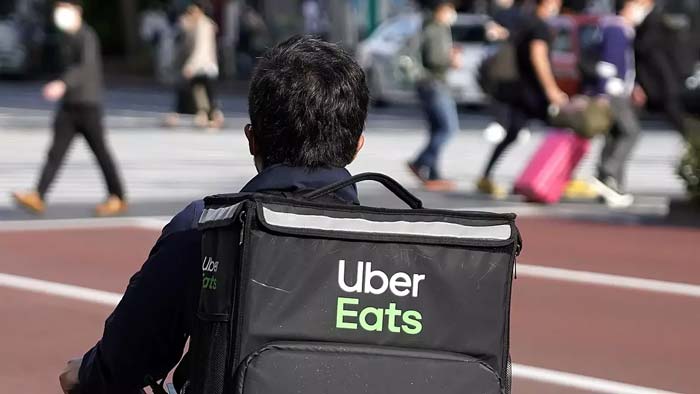 Uber Eats is a subsidiary company of Uber (a cab service provider) set up in 2014. Both the site and app of Uber Eats can be used for ordering food online in several locations around the world. It operates in more than 6,000 cities in 45 countries in the world, which makes this service easily accessible for a lot of people globally. Ordered food items and meals are delivered to the desired locations through cars, bikes, scooters, and even on foot.
The Uber Eats app promises to connect:
"You have a broad range of local restaurants and food, so you can order from the full menus of your local favorites whenever you want."
Being available in so many locations, this food delivery site is people's go-to option whenever they want restaurant food at home. Therefore, just like Doordash, even Uber Eats enables one to buy food with crypto. But yes, the process remains the same as well. The site or mobile app does not provide the option to pay directly with BTC or any other cryptocurrency. But you can surely order food with crypto on this site using gift cards from BitPay.
3. Menufy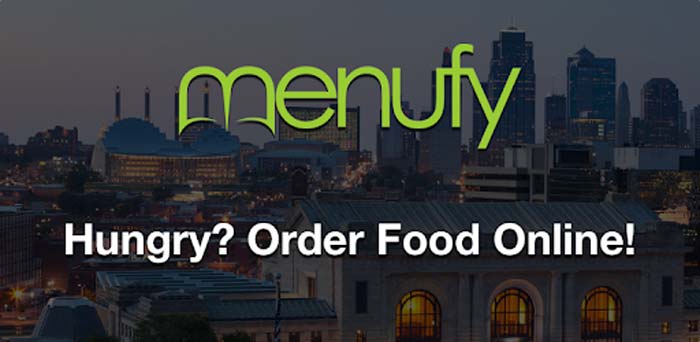 Menufy is an online food delivery service that was established in 2009. The service operates in the United States and that too in thousands of cities. The site is one of the most-loved ones after Doordash in America. One of the reasons is also that it offers a variety of payment options that includes Bitcoin as well, so one can indeed order food using crypto.
In addition, payment methods like Credit Card, PayPal (a global payment processor), Apple Pay (UPI), Google Pay (UPI), and Venmo (Mobile Payment Service) can be availed as well. These options make it simple for the customer to make payments and order their favorite food as crypto and UPI payment options are gaining immense popularity lately.
The registration process is very simple on the part of the restaurant owners as well. Therefore, it not only caters to the needs of the ones who order but the ones who prepare the meal as well. Further, the company is known to support a food bank that looks after the needs of community kitchens, homeless shelters, food pantries, and senior centers. This positive act of theirs is another reason that they are one of the most trusted online food delivery services in the U.S.
4. Just Eat Takeaway.com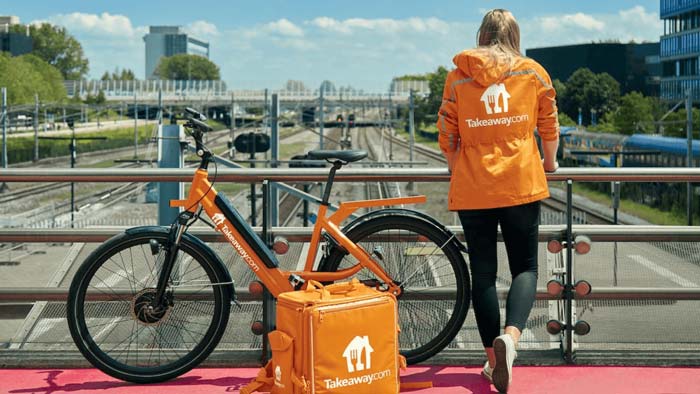 Just Eat Takeaway.com is a multinational online food ordering company that is headquartered in Amsterdam, Netherlands. This company is a result of the merger of Just Eat (a U.K.-based food delivery company) and Takeaway.com in 2020. After this merger, it also was listed on the London Stock Exchange, which is not an easy thing for a Dutch company to achieve. It is a parent company of online food delivery sites that include Takeaway.com, Lieferando, and Thuisbezorgd.nl. This MNC serves about 20 countries that include the U.S. and the U.K. and obviously the Netherlands.
Takeaway.com does let you order food with crypto directly from its site or app. However, the catch here is that it has not availed such service in every country or city. This might have been because of the varied restrictions and rules people have for virtual currency around the world. This online food delivery service enables people to buy food with cryptocurrency in some European countries where it operates. Its subsidiaries like Lieferando.de, Pyszne.pl, and Thuisbezorgd.nl (the original site) all accept Bitcoin as a payment mode as they operate through BitPay.
5. Shuttle Delivery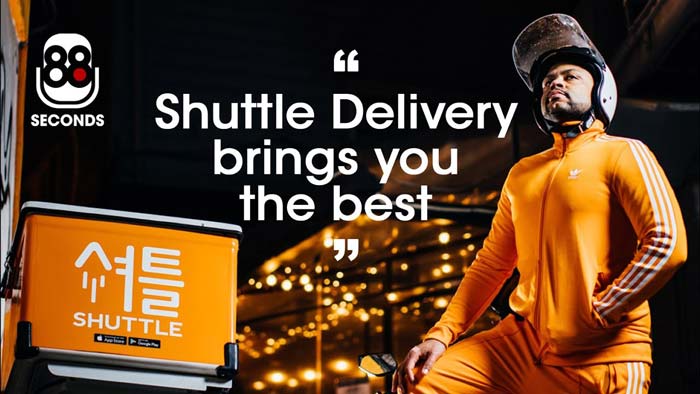 Shuttle Delivery is a Korean food delivery site that also accepts cryptocurrency as a mode of payment that too without the interference of a third-party app. This means that you can directly order food with crypto using this site or its mobile app available both on the App Store and Google Play Store. The site defines itself as an online food ordering service that:
"Delivers from Korea's best restaurants, so you can enjoy the best food in the comfort of your home, office, or wherever you happen to be! We are presently serving communities in Seoul, Osan, Pyeongtaek, Daegu, and Busan with regional hubs delivering around Osan Air Base, Camp Humphreys, Camp Walker, and Camp Henry."
The Shuttle Delivery site enables various payment options including crypto-based payments. The two cryptocurrencies that it supports are BTC and Bitcoin Cash (BCH), a digital currency forked on the Bitcoin blockchain. The other payment options and currencies that it avails and accepts are KakaoPay, Credit Cards, PayPal, Korean Won, and U.S. Dollars. Therefore, one living in Korean cities where it operates can order food by crypto payments easily.
Summarizing Everything Up!
The idea of ordering food using digital currencies is just so fascinating. This is why we shared the list of food delivery services that allow one to buy food with crypto. To sum it up, let's mention the sites that we talked about. The article mentioned Doordash, Uber Eats, Menufy, Just Eat Takeaway.com, and Shuttle Delivery. Out of these, Menufy and Shuttle delivery do not rely on BitPay for their crypto transactions while others do. In the case of Doordash and Uber Eats it is not possible to buy food with cryptocurrency directly but first you need to purchase gift cards from BitPay for the same.

Latest posts by Natalia Zhukova
(see all)