Monero (XMR), the largest privacy cryptocurrency, is in the 'red' currently. Though the Monero price is declining, its 24-hour trade volume was noted to be surging. The crypto market has stayed volatile and bearish for a long time now. This is why the price of this privacy crypto behemoth is also negatively affected. The value of the XMR token has been dropping ever since this year started, it rebounded at some points and then the situation went back to the same.
What Is Monero (XMR)?
Monero is the most prominent privacy cryptocurrency. A privacy crypto is one that allows its holder to carry out transactions without them being recorded. It is thought that these digital currencies are not secure enough. However, the creators of XMR have always claimed that their services are secure by all means. The Monero CoinMarketCap page notes that it was:
"Was launched in 2014, and its goal is simple: to allow transactions to take place privately and with anonymity. Even though it's commonly thought that BTC can conceal a person's identity, it's often easy to trace payments back to their original source because blockchains are transparent. On the other hand, XMR is designed to obscure senders and recipients alike through the use of advanced cryptography. The team behind Monero say privacy and security are their biggest priorities, with ease of use and efficiency coming second. It aims to provide protection to all users — irrespective of how technologically competent they are."
Some Monero competitors that have been highlighted by us in the past include Firo (FIRO) and Swap (XWP). The performance of these two in the trading session today has been marked in the article later.
Monero Price Performance
The Monero price today was down by 1.33% and traded at $148.88 at the time of writing on Thursday, November 3, 2022. The market valuation of the coin stood at $2.7 billion, up by 1.32%. However, the only positive thing that was spotted was that Monero's 24-hour trade volume had increased significantly by 18.17% and was at $94.30 million.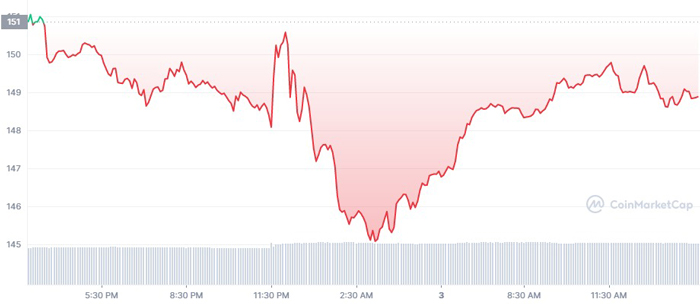 But one positive thing is that even though the price gain could not outperform its competitors (mentioned below), XMR is still leading the sector with a value of over $145 currently. Moreover, it reached a high of $150.74 today, which if maintained would have been a better scenario. On the contrary, the crypto is down by a huge 69.2% from its all-time high of $483.71. In addition, the XMR cryptocurrency has lost 34.9% from the price it was trading at the beginning of this year ($228.85).
Monero Competitors' Performance
You would be stunned to know that both XMR's competitors were in the 'green' while the leading privacy crypto extended into losses. The Firo coin price was up by 3.59% and traded at $2.28 at press time on Thursday, November 3, 2022. The market valuation of the crypto was $26.52 million, up by 3.43%. In addition, the 24-hour trade volume for the FIRO token surged by a huge 57.16% and stood at $2.98 million. The day's high was achieved just moments ago before reporting the price and was $2.29.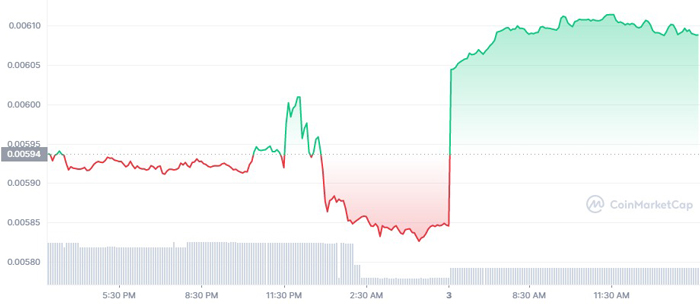 The Swap crypto price today was up by 2.63% and traded at $0.006092 at the time of reporting on Thursday, November 3, 2022. The market capitalization of this virtual currency was $96,880, up by 2.64%. Moreover, the 24-hour trade volume for the XWP token plunged by a massive 61.02% and stood at $22. The day's high was recorded to be much higher than the price that has been noted here and was $0.006115.
Latest posts by Emily Baker
(see all)